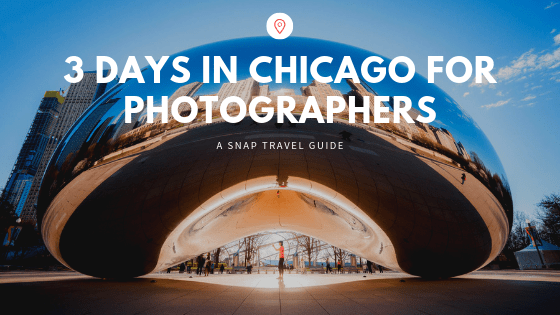 I just got back from my second trip to Chicago but my first real time visiting with a camera in my hand. I booked this trip with the intention to scout out photo locations for our upcoming photo workshop in Chicago. I wanted to get a feel for the city and the logicistics of getting around. So if you're interested in joining me for a week in Chicago, click here.
In general, I loved visiting the city. Compared to New York City or even Washington DC, it's a lot quieter as far as car noises and even people walking around. It's so photogenic, meaning everywhere you turned could be a great new image. With the so many different elevated views, it was difficult to take a bad picture. I especially liked being among the skyscrapers. Even during the middle of the day, you can find some very interesting shadow play. Overall you can't go wrong with a photo adventure in Chicago – even if it's just for a few days.
Side note, they don't call it the "windy city' for nothing. Even on a nice, sunshining day, it can get really cold with the wind. I highly suggest packing at least gloves and a hat in your camera bag for those just in case moments. You don't want to let being too cold be the reason why you don't capture your shot. I was there at the very end of March and I wore my gloves everyday.
So we had a good 72 hours in Chicago packed full of photography. Here's what we did:
*Click on the images for even more information about the image and my camera settings.
Where to Stay
We didn't rent a car so picking a centrally located hotel was key. You'll probably find that most of the things you want to take pictures of are in the downtown area where Chicagoans like to call "the Loop". It's a great place to start and I'd highly recommend getting your hotel in this area. We stayed at the Kimpton hotel and it was conveniently located to a lot of interesting places. I especially liked that we were so close to the Millenium Park and the Chicago Theatre considering those were the two places where we wanted to start and end our day. It was easy to just leave our hotel and immediately start taking pictures with everything was less than a mile away. For the few places that there were more than a mile away, the L train or even a Lyft ride was super simple to do.
Parking Garages
We arrived to Chicago in the middle of the day on a Friday, but I did not want to waste the daylight so we went straight to our first photo stop- parking garages. There were two in particular that I bookmarked: this one can be found at 401 N Wells St. We went to the very top floor to get an elevated view. It didn't take long to wait for a train to drive past so I would just be patient and line up my composition to frame it the way I wanted it. In between time, I enjoyed changing to my zoom lens and using the tracks as a way to frame some pedestrians.
The parking garage at 200 N Clark St is kinda crazy because you can poke you head out of the side and look below to a really reflective surface. It's really fun, but does require a bit of balance to climb the wall a bit. In order to really stick your head out, you are balancing your feet on the ledge the entire time. Luckily, everytime I visited this parking garage, there was another photographer there that contributed to an interesting foreground. Thanks friend!
Similar to the previous parking garage image, in between trains passing, I was trying to find different compositions. While the image on the left was the type of image I was looking for, I turned my head towards the other direction and saw this scene. Ouuuu the "Walking Dead" vibes.
Hotel Rooftop
Captured from the top of the London House, it's the perfect place to go for sunset, drinks and unwind a bit from a busy travel day. I think the hotel staff knows that a lot of people just come into the hotel to visit the rooftop bar, so they were very friendly pointing you in the right direction. The rooftop has great views of the Chicago river and even Millenium park (on the other side of the rooftop). Even though it was a nice day it was super windy, they had heated lamps which made it a lot more comfortable to be on top of the city.
The L Trains
This location took quite a bit to find. I loved how the buildings were framing the Trump International Hotel and Tower but I wanted to find that elevated view with the L train below me. So if you're looking for the same spot, it's at the Adams Wabash stop. I had to pay the L train fee to get in to the station but I didn't mind. I just headed straight up to the second platform, captured this image, and then came right back down. I didn't even go on the train.
The Chicago Theatre
But did you really go to Chicago if you didn't take a picture of the Chicago Theatre sign? It's so iconic, I think it's a must. My preference was to take the image at night to really see the lights of the sign. For the elevated point of view, I was standing in the middle of L train stairs, using the railing to steady my camera in order to capture this. Unfortunately, I did not have a tripod with me. This was taken about 9p on a Saturday night. I wanted people in my shot so I was glad to see so many tourists out still taking selfies and it also helped that the Chick-fil-A was still open as people were coming and going.
Cloud Gate
When I think of Chicago, I think of the bean. So it was definietly a must see on our trip.
But we ended up going twice. The first time we went was in the middle of the afternoon and it was PACKED. Like if you thought Chicago was a really populated city, I'm pretty sure it's because half of them are at the bean taking pictures, especially on a beautiful Saturday afternoon. In order to try to get a shot with the sculpture without so many people, we planed to wake up early on the last morning of our trip to go to Millenium park.
We were hoping that an early sunrise morning would result to no one being there. We were wrong. I'd say there were a good 30-ish people there. But it was so much more manageable. Plus that sunrise glow! With the sun coming up, it illuminated the bottom of bean and it was one of my favorite moments of the trip. Definitely worth waking up early just for a less crowded image.
North Ave Beach
From our hotel, it was a little bit more than a mile away and I had intended on visiting at sunrise. So the North Ave Beach was one of the only places where we took a Lyft to our photo location. It worked out well because it was super windy morning and having a car ride to the beach made the commute so much more enjoyable. Plus I heard parking is super expensive, so I'm glad we didn't have to deal with that. I love the skyline view with the water in the foreground. I would love to capture this one day with a colorful sunrise so this will definietly be on my list to visit again next time I'm in the city. Walk along the shoreline and you'll get even more/different views of the city.
Street Photography
Another advantage of picking a hotel that is centrally located is being able to capture street scenes that you would have never expected to. I kept my camera in my hand pretty much the entire time we were walking around the city. And if it weren't for that, I probably would have not been able to capture these images. Either I would have been too lazy to get my camera out of my backpack or I would have just missed the moment.
Initially, it was the light that caught my attention. I loved how it made the tops of the bare trees glow against the dark black wall. So I waited for someone to walk by. Luckily it didn't take too long for this lady in a red jacket to find her way towards the light. I just love how everything lined up.
I mentioned earlier that I really enjoyed being among the skyscrapers. You just feel so tiny in a big city. Even in the middle of the day, when photographers usually don't like taking pictures because of harsh light, I thought the buildings created interesting shadows to play in. This image was taken around 2p, in the middle of a random alley way. There were some huge puddles in the middle so I just waited for someone to pass by to add some a sense of scale.
There are plenty more scenes like this all around the city. You just have to keep your eyes open and your camera ready while exploring the city.
Hope you enjoyed this photo guide. As you can see, Chicago is very cool city and a photographer's playground. We covered a lot in the 3 days that we were in the city and only had 1 slight photo regret. If I had to do it again, I would definietly try to get advance tickets to the Skydeck at Willis Tower. We tried to go on a Friday afternoon and the wait was 2.5 hours just to get tickets to enter. That didn't even count going up to the skydeck and waiting an additional 30 minutes or more to take pictures from one of those windows that come out of the building. We didn't want to wait that long so we just left. It was definietly an error on my part. The plan was to go in the afternoon because that's when you start seeing the shadows from the buildings and you get some interesting light in the middle of Lake Michigan. But I guess that was everyone else's plans too.  I also heard you can go as soon as Willis Towers opens in the morning and the line won't be as bad, but I personally wouldn't risk it. This place is PACKED! So if you want to get an even more elevated view of the city, I would plan book your trip to Willis Tower as soon as you book your other accommodations to Chicago.
After this trip, I'm so confident that the Chicago photo workshop in July is going to be great. There are great images everywhere and I'm excited to help you create images you are proud of.
If you have any other questions about photographing the city, please let me know and leave them in the comments below. I'll try my best to answer them. And if you think I'm missing any other photo locations, please let me know as well! Hope you enjoy your time in the windy city as much as I did and Happy Snapping!