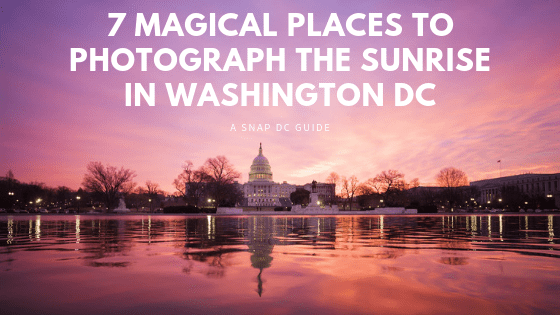 Washington DC is ideal for sunrise photography.
I've lived in the area my whole life and been photographing the National Mall for over 8 years. I've pretty much been to every one of these places at least 20 times. So I compiled the top 7 best spots to make your trip to the Nation's capital easier to navigate.
I've done all the research for you so you can just get out there and shoot. Here's everything you need to know to capture a stunning sunrise in Washington DC:
How to Prepare for Sunrise
I love the alignment of where the sun rises among the monuments as opposed to where the sun sets from. It gives off this amazing warm glow on the memorials that's hard to get at sunset. Plus there is this overwhelming feeling of peace and calm in a city that's usually hustling and bustling during the day. At sunrise you're more likely to get images with no one in them while at sunset it's nearly impossible.
Don't worry though even if no one else is around, park police have the memorials under constant surveillance which makes this one of the safest places to be in DC at night. If anything bad should happen, help will not be far away.
I typically try to arrive at my sunrise location about 30 minutes before the sun actually rises. That way you will see all the great predawn colors in the sky. Dress according to the weather and grab a coffee, you won't regret it.
For the serious photographers out there, you may be wondering about tripods. For the most part they are not allowed. However if you're photographing sunrise and there is no one else around, you could probably get away with it. I think the biggest concern is when the memorials are crowded and other people may trip over the legs. Out of all the times I've been out for sunrise (trust me it's way more than I can count), I have been asked to put it away once while I was at the Lincoln Memorial. All other times other than sunrise at any of the memorials, it's pretty much out of the question.
The United States Capitol is slightly different. Technically, it's not the National Mall so the same rules don't apply as they do at the memorials. There is way more security there and I've heard conflicting rules about tripods. The last time I spoke to a Capitol Policeman about it, he said they are allowed. However since then I've heard of photographer friends being asked to put it away. It seems like there is no right or wrong answer so I would just take your tripod if you want and just be respectful when photographing the grounds. The worst that will happen is that someone will ask you to put it away.
One last thing to note, I wrote a book all about photographing Washington DC. It's called Snap DC: Your Guide to taking Extraordinary Photos of the National Mall and Beyond… and it is available on Amazon. So if you are interested in seeing more of Washington DC than just the sunrise, click here to check it out.  As an added bonus I created a 1, 3, and 5 day sample photo itinerary for your trip to Washington DC, click here to download my ideal schedule.
Now on to that sunrise…
You Can't Go Wrong with the Reflecting Pool
In my opinion, the Reflecting Pool is the ultimate sunrise location in Washington DC.  It's the most iconic and it is the place that I tell everyone they must go to if they have never been to the national mall and especially at sunrise. It's the center of 4 great landmarks all within a central area. A one stop shop if you will.
I love this spot to just sit on the edge of the pool and watch the sun rise. It's the best when it's a particularly colorful sunrise because I love getting that reflection and doubling the amazing sky.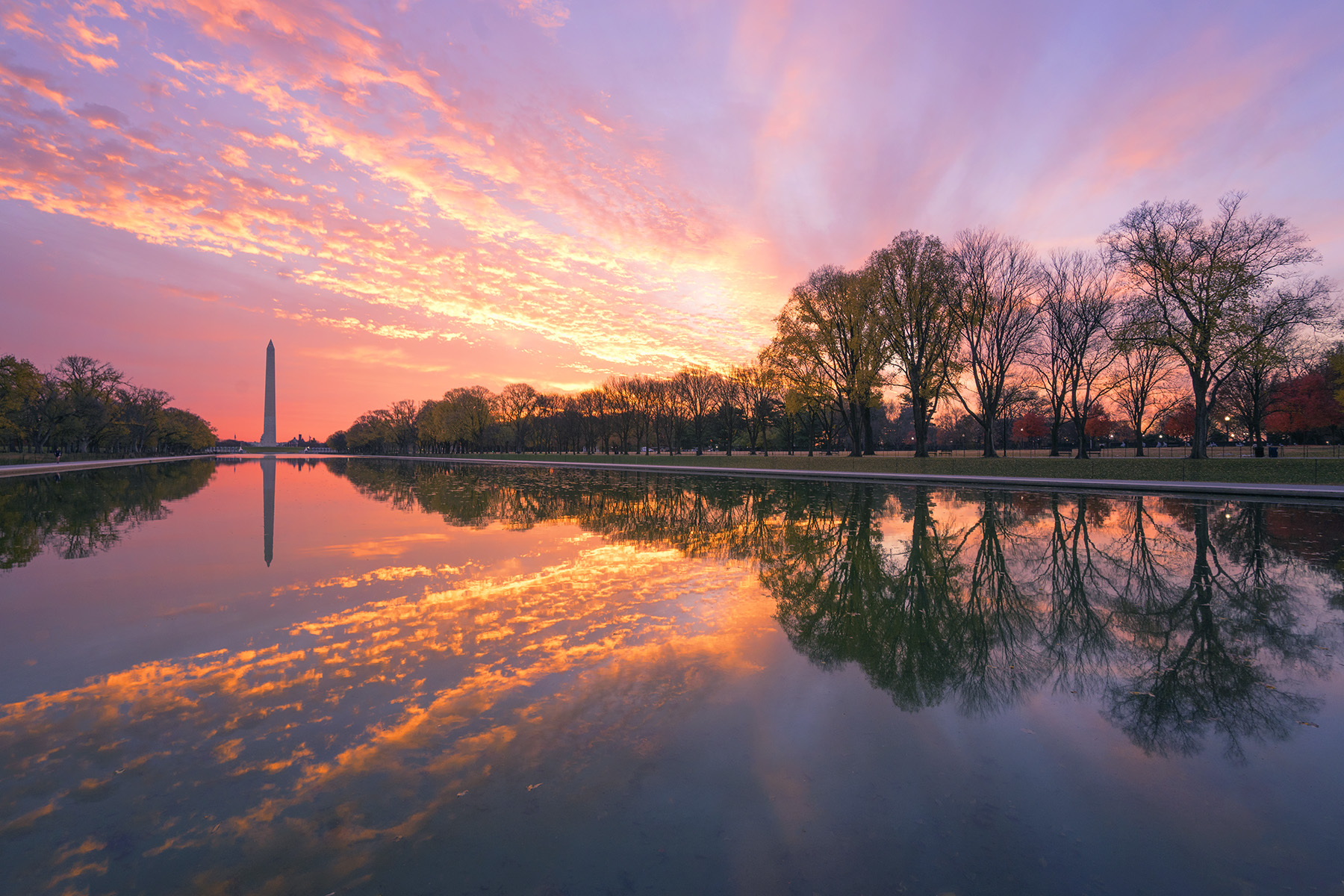 If you bring your ultra zoom lens, you can even get the US Capitol in the reflection. This image was captured with my 70-200mm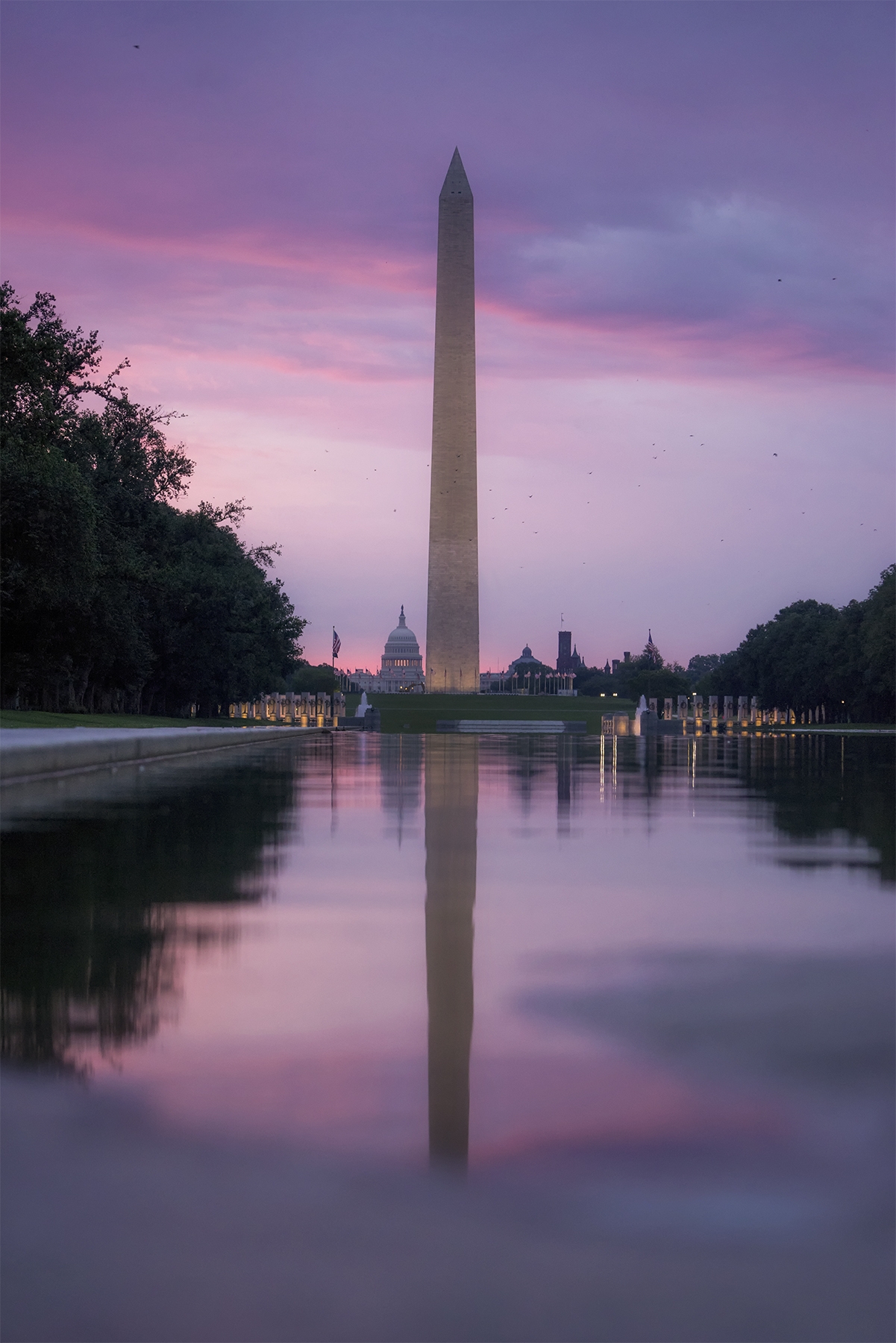 Walk up to the Lincoln Memorial
After you've captured some images of the Reflecting Pool, walk up the steps to the Lincoln Memorial. It is less than 100 ft away and gives you a similar view than the reflecting pool but at a more elevated perspective. Don't be surprised when you see other tourists and locals just sitting on the steps and watching the sky change. It's just a spectacular show.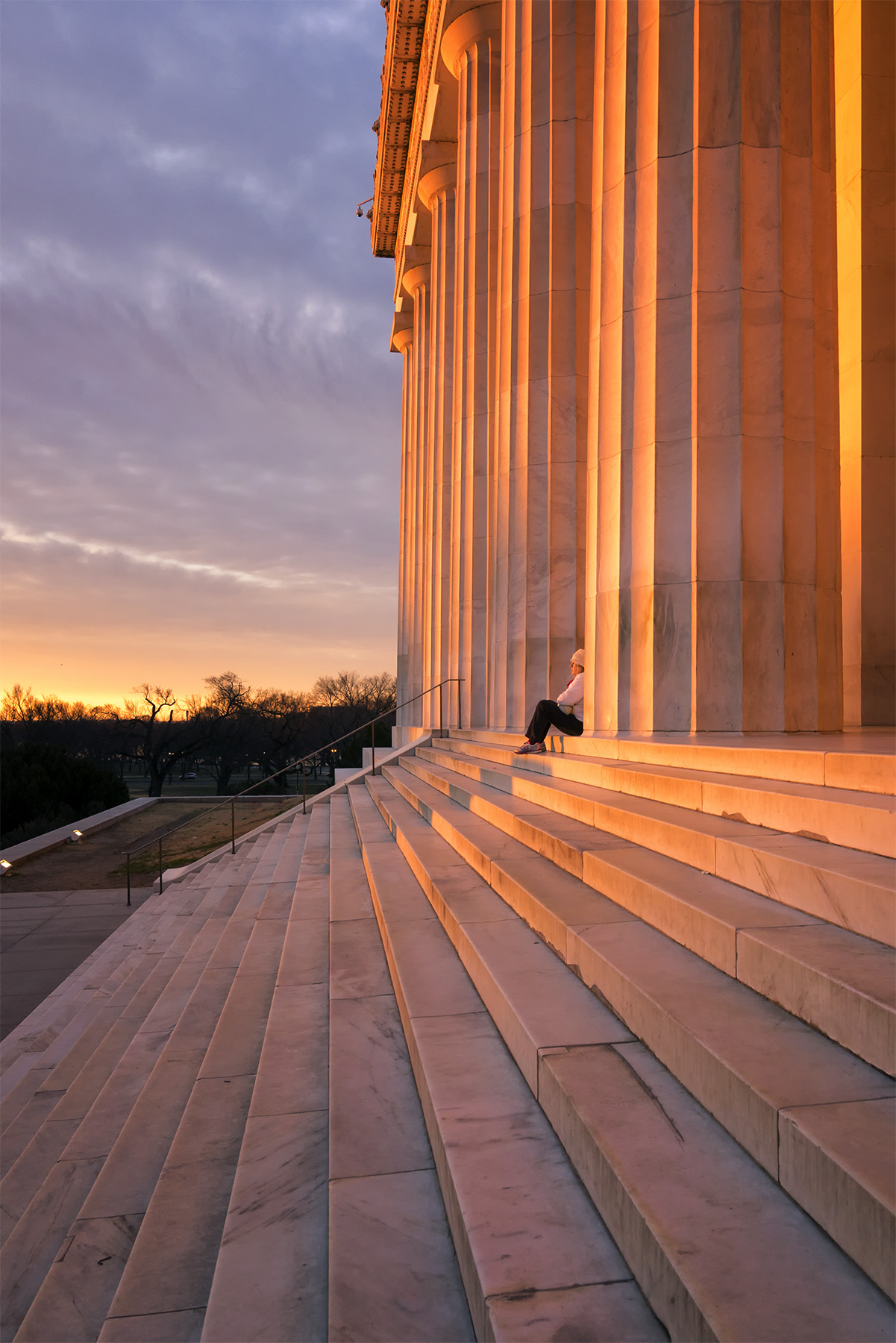 One of my favorite parts about this memorial is that you are able to walk all around it. Meaning you get a slightly elevated view of Virginia and the Potomac River just by walking up the stairs and circling around the back. This provides some interesting angles for sunrise, especially using the columns as framing elements.
Here's my little secret to photographing the Lincoln Memorial. Wait until the sun rises a little bit above the horizon and when it hits the inside of the memorial. If you're lucky enough, there's this amazing warm, orange glow that hits the white marble. It's a great display of shadows, line and usually totally empty. There's no other time of day where you will get President Lincoln looking so warm.
The Vietnam Veterans Memorial is an Emotional Place to Watch the Sky
To the left of the Reflecting Pool and Lincoln Memorial is the Vietnam Veterans Memorial. I just love how reflective the wall is. You can see the surrounding trees and the Washington Monument in the black granite. The wall and the footpath provide great leading lines. But also, consider taking a few moments for yourself here. This memorial is particularly moving and often times you'll find little gifts left behind to the soldiers like flowers or even a can of beer. I'd recommend following your instincts and emotions while capturing images here.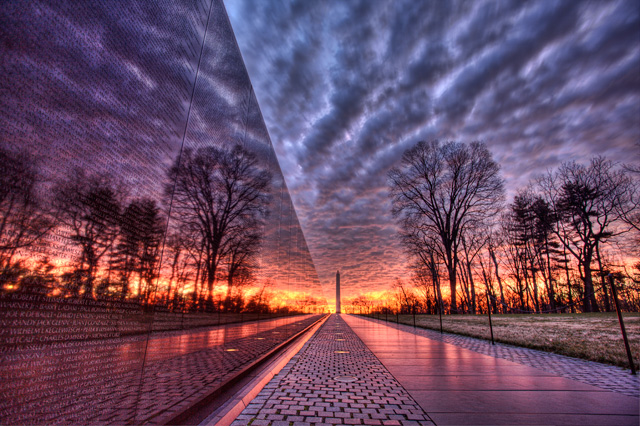 Just a Few Steps Away from the Korean War Memorial
Since you're already there, the Korean War Memorial should be on your list to capture as well. I personally think the memorial looks best during snow or fog because it helps eliminate some of the distracting bushes and trees. Either way, you'll still be able to capture some beautiful sky images from here.

Don't Pass Up on the Tidal Basin
The Tidal Basin is located across the street from the Korean War Memorial but it is easily missed since it's a little bit out of the way from the other memorials. But don't let that make you miss out on this beautiful location. It's a great spot for sunrise with even less people than the rest of the National Mall. The Martin Luther King Jr Memorial is good starting location for the Tidal Basin to photograph the sunrise. On some mornings the water will be perfectly smooth with endless reflections.
But that's not to say that the Martin Luther King Jr Memorial isn't beautiful at sunrise either. This image was taken a little bit after the sun had risen from behind the memorial. I just can't stop staring at that little slice of light and the coolness that oozes off of this image.
This is also the best place to photograph cherry blossoms when they're in season. So of course, I had to add a little cherry blossom image here too 🙂
But don't let the Martin Luther King Jr Memorial be the end of your journey around the Tidal Basin. After the sun rises, check out the Franklin Delano Roosevelt (FDR) Memorial and the Thomas Jefferson Memorial. All are so unique and fun to photograph spread all along the 2.1 mile loop around the basin.
For my ladies: The bathrooms close to the FDR Memorial is by far the best bathroom in the entire mall. If you need to go, I'd highly suggest waiting to go to this one 😉
The United States Capitol Building is an Iconic Sunrise Location
The United States Capitol is beautiful from all angles and all times of the day but obviously my favorite is sunrise. There are several places around the building that will get you that amazing sunrise image. My first suggestion is to stand at the Capitol reflecting pool facing east, you can get some great reflections. I would say to just sit at the ledge and try to bring your camera down as low as possible to the water. It's fun to get little dancing reflections like this one pictured.
What I think is most interesting about the US Capitol is that a lot of people don't get up close to the building itself. They may just go to the reflecting pool and call it the end of the day but don't be those people. Get closer! Yes there is Capitol police everywhere (you can even see one on the second balcony of this image) but they won't bother you unless you're doing something that you're not supposed to be doing.
I love photographing the US Capitol with my wide angle lens. There is so many great details to see that I want to make sure that I can include them all in one photograph.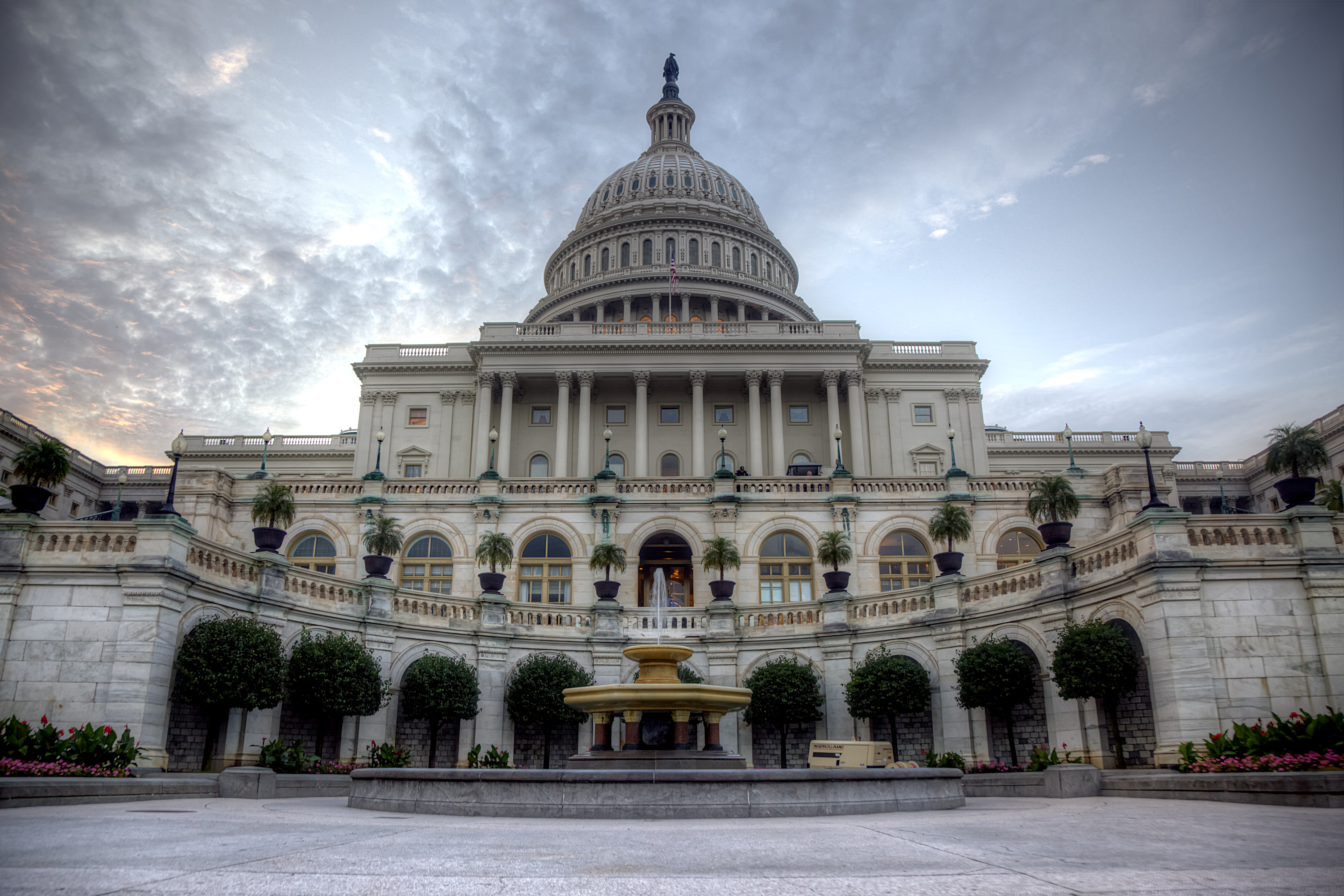 And if you know me, I'm all about finding those reflections in puddles. They're always the best after rain or snow but for some reason, you can actually find them on the sunniest of days too. This was along the steps leading to the Capitol building.
Right Outside of Washington DC will Give You Beautiful Sunrise Views Too
So here's my little wild card sunrise photo suggestion because technically this is not in Washington DC. It's in Arlington, Virginia, just outside of the capital city but the views here are fabulous. Head to Iwo Jima (US Marine Corps War  Memorial) for sunrise and you won't be disappointed. If you can angle it just right you, you can even get a shot of the Washington Monument poking through the soldiers' legs.
But the real reason that this place is on this list is because of Netherlands Carillon. It's the ultimate sunrise spot to see the big three landmarks (Lincoln Memorial, Washington Monument and the US Capitol) all lined up. There is no other place in or around Washington that you will be able to capture it in such alignment (the view from the bike path along the George Washington Parkway is a little more spread out than this and difficult to get a good view of the US Capitol). When you get a beautiful sunrise, man, there's nothing better.
In order to get here, drive around the loop and park behind the Iwo Jima memorial. Take a few pictures of the memorial then make your way to the right. Cross the street towards a little trail that leads you around a little turn in the path and you will see the Carillon. Make sure you're standing on top of the hill and you'll see this view. If you're metro'ing it, get off at the Rosslyn stop and walk about 15 minutes to get here.
Pro tip: Bring an ultra zoom lens. The memorials are pretty far away so in order to capture a closer up shot, the zoom lens comes in handy. I took this image with my 70-200mm and cropped it in a little bit further in photoshop. I have a friend who has captured this with a 400mm and it looks so good!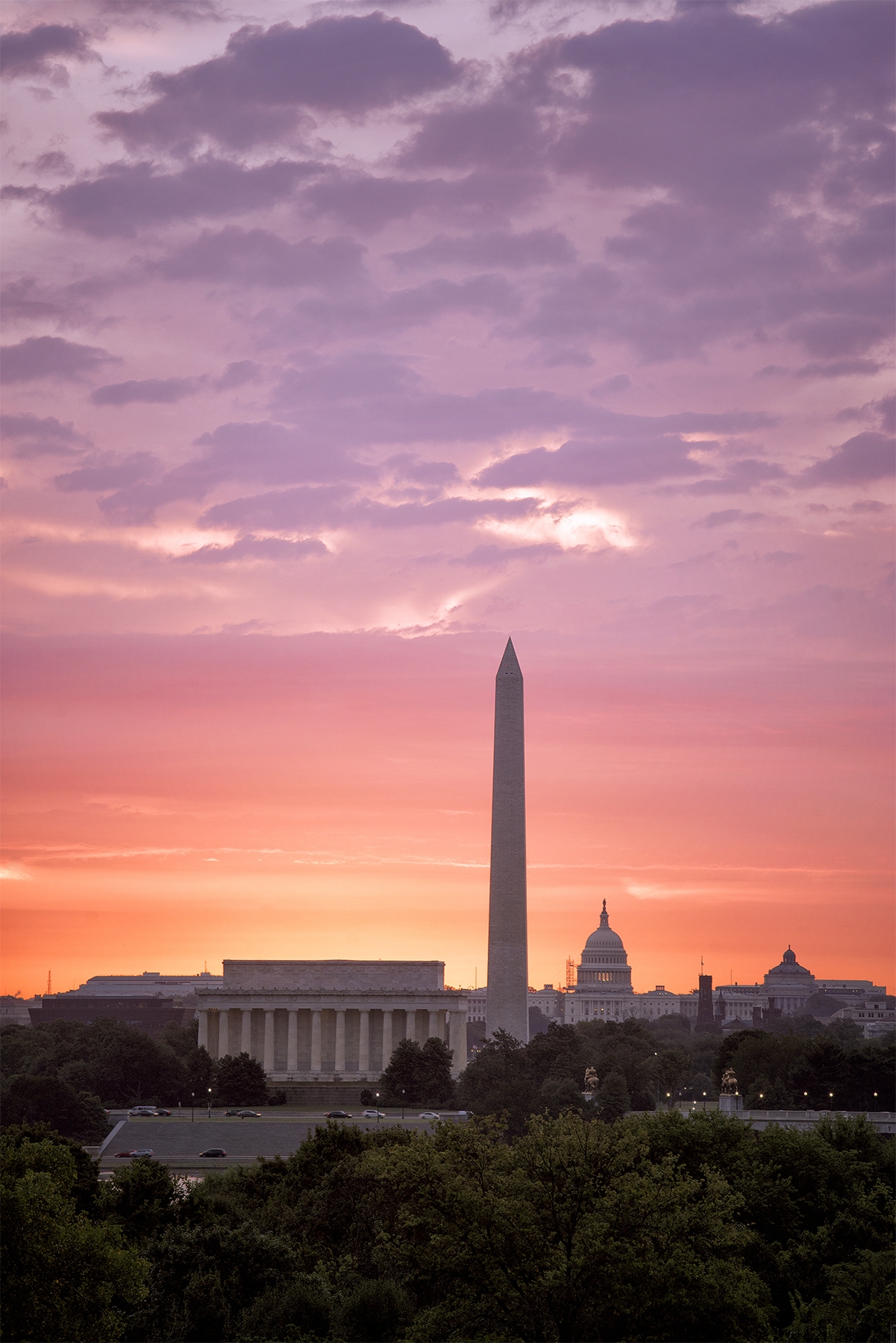 Just for reference, this is what the carillon looks like. There was a time where you would have been able to climb to the top, but it has been closed off for years. 🙁
An added bonus is that there are usually beautiful flowers blooming there in the spring, summer and you can even see some still lingering in the fall. They make for great foreground elements 🙂
That's it! My top 7 places to capture the sunrise in and around Washington DC.
I've spent years photographing the city and these are my favorite places that I would recommend to anyone who wants to get some killer early morning shots of the city. Hope you found this guide useful and if you have any additional questions, feel free to drop them in the comments. I'll try my best to answer them.
For even more detailed photography suggestions, anytime of the day, year or even how to get around Washington DC, check out my book, Snap DC: Your Guide to Taking Extraordinary Photos of the National Mall and Beyond… It was created for any level of photographer from mobile to DSLR, who wants to cut down the research time and spend their time out doing what they love- shooting.
Available on Amazon:
Happy Snapping!