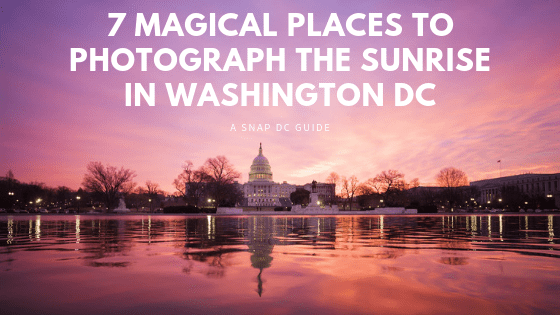 Washington DC is ideal for sunrise photography.
I've lived in the area my whole life and been photographing the National Mall for over 8 years. I've pretty much been to every one of these places at least 20 times. So I compiled the top 7 best spots to make your trip to the Nation's capital easier to navigate.
I've done all the research for you so you can just get out there and shoot. Here's everything you need to know to capture a stunning sunrise in Washington DC:
How to Prepare for Sunrise
I love the alignment of where the sun rises among the monuments as opposed to where the sun sets from. It gives off this amazing warm glow on the memorials that's hard to get at sunset. Plus there is this overwhelming feeling of peace and calm in a city that's usually hustling and bustling during the day. At sunrise you're more likely to get images with no one in them while at sunset it's nearly impossible.
Don't worry though even if no one else is around, park police have the memorials under constant surveillance which makes this one of the safest places to be in DC at night. If anything bad should happen, help will not be far away.
I typically try to arrive at my sunrise location about 30 minutes before the sun actually rises. That way you will see all the great predawn colors in the sky. Dress according to the weather and grab a coffee, you won't regret it.
For the serious photographers out there, you may be wondering about tripods. For the most part they are not allowed. However if you're photographing sunrise and there is no one else around, you could probably get away with it. I think the biggest concern is when the memorials are crowded and other people may trip over the legs. Out of all the times I've been out for sunrise (trust me it's way more than I can count), I have been asked to put it away once while I was at the Lincoln Memorial. All other times other than sunrise at any of the memorials, it's pretty much out of the question.
The United States Capitol is slightly different. Technically, it's not the National Mall so the same rules don't apply as they do at the memorials. There is way more security there and I've heard conflicting rules about tripods. The last time I spoke to a Capitol Policeman about it, he said they are allowed. However since then I've heard of photographer friends being asked to put it away. It seems like there is no right or wrong answer so I would just take your tripod if you want and just be respectful when photographing the grounds. The worst that will happen is that someone will ask you to put it away.
One last thing to note, I wrote a book all about photographing Washington DC. It's called Snap DC: Your Guide to taking Extraordinary Photos of the National Mall and Beyond… and it is available on Amazon. So if you are interested in seeing more of Washington DC than just the sunrise, click here to check it out.  As an added bonus I created a 1, 3, and 5 day sample photo itinerary for your trip to Washington DC, click here to download my ideal schedule.
Now on to that sunrise…
You Can't Go Wrong with the Reflecting Pool
In my opinion, the Reflecting Pool is the ultimate sunrise location in Washington DC.  It's the most iconic and it is the place that I tell everyone they must go to if they have never been to the national mall and especially at sunrise. It's the center of 4 great landmarks all within a central area. A one stop shop if you will.