2021 Cherry Blossoms
22
4.14.21
To say the 2021 cherry blossom season was really different is an understatement.
They came about a week earlier than expected which worked out well because crowds were a lot more manageable. There were road closures around the tidal basin, no in-person festivals celebrating the blooms, and the Jefferson Memorial is STILL under scaffolding.
Luckily, the blossoms were as beautiful as ever. I'm glad I was able to get out there when I could. I hit up my usual spots, tested out a new camera lens, and came home with some images I was really excited about.
Washington Monument
Since parking was really limited this year, Ohio Dr and the East Potomac Park parking lots were all closed, I had to get creative with the places I parked. Most of the time that meant parking on Jefferson Dr or Constitution Ave and walking past the Washington Monument to get to the Tidal Basin. I didn't mind because I've always enjoyed these cherry trees as well. Although they aren't as big as the ones by the Tidal Basin, they are beautiful trees that frame the Washington Monument.
Tidal Basin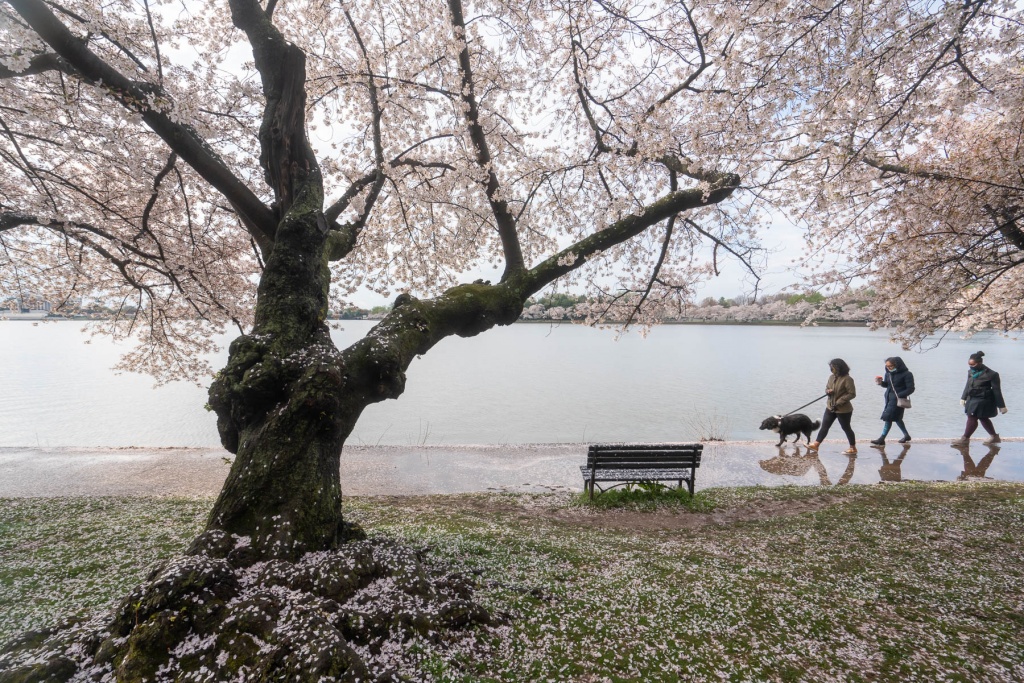 Cherry blossoms usually last about a week, maybe 10 days if we have some really nice weather. However, if it rains or gets really windy, the petals start falling off the flowers and start turning into green leaves. I think most locals know this and by the time the first rainstorm hits, a lot of people will stop going to the tidal basin, but it's probably my favorite time to go. Puddles are everywhere and I love it when the petals start flying off and land in the water and all over the ground.
It is so magical to be there when the petals start flying in the air. It's like you're in a Disney movie. Every year I try my best to try to capture them but I've never gotten them to the way I wanted. Until this year. When I think back on all the spring walks I've done this past month, these are probably my favorite images I've captured. I really enjoy the dusting of the petals and how you have to look a bit closer to see what they are. I did find having a really fast shutter speed and photographing the petals with a dark background worked best. Note to future self.
East Potomac Park
Just a short walk from the Tidal Basin is East Potomac Park. I'm not sure why more people don't go there, but it is stunning. This whole street is lined with cherry blossom trees and you just feel so small walking through this magical park. I found that a lot of people were riding their bikes here since no cars were allowed to come through.
National Gallery of Art
The National Gallery of Art is still closed due to the pandemic but it hasn't stopped the beautiful blossoms on the exterior from thriving. If you go at the right time, there are magnolias, tulips, and cherry blossoms. Unfortunately by the time I got there this year I didn't see any magnolias but they have some beautiful trees in between the east and west buildings.
My absolute favorite trees on this part of the mall are by the west wing of the building. I just love photographing them against the architecture. It's the contrast between nature and man-made that's harder to get at the Tidal Basin.
Rawlins Park
Not cherry blossoms but still just as beautiful. These pink flowers can be found in NW DC a few blocks from Constitution Ave in Rawlins Park. This is one of my favorite places to catch the Magnolias in the springtime and the great thing about magnolias is that they usually last a bit longer than cherry blossoms so it's a little bit easier to capture.
Obviously those aren't all the image I captured during the 2021 cherry blossom season but they are some of my favorites. Did you photograph flowers this year? If so, I want to see! Upload a picture in the comments or tag me on most social media @abpanphoto.
Need more tips on how to photograph some of the best places in DC? Check out: