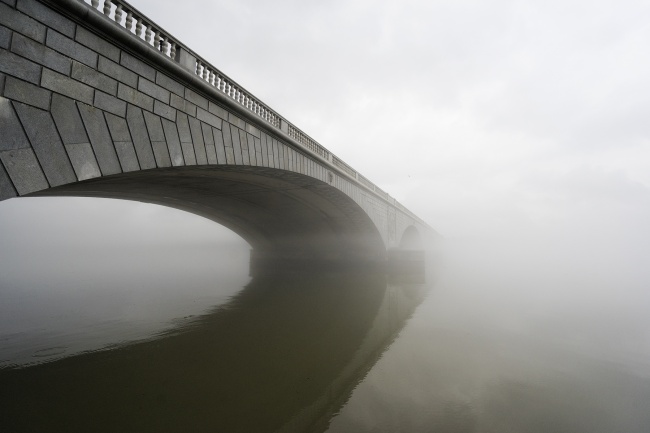 PURCHASE PRINT
I preschedule all my blog posts. That's the only way I can make sure one gets up on the blog everyday. So as I was wrapping up yesterday's blog post on Sunday, I was messaging my friend, Birch about the snow this coming week. We tentatively made plans to meet up and shoot but with Washington DC weather who really knows if it's actually going to happen. And as a casual side note she told me about the awesome fog layer that was forming at that time on the Potomac River. And you know me, as soon as I hear the word 'fog' my ears perk up. I literally just wrapped up that blog post as fast as I could and made my way to the city.
OMG it was like I was in a magical dream land. The fog was amazing! Something I experience probably once a year in the city and I loved it. Birch and I met by the Arlington Memorial bridge and walked a huge loop around the memorials. This image was taken right at the base of the bridge but what's crazy is that there were times where you couldn't even see this much. If this isn't the way to spend a spontaneous Sunday afternoon then I don't know what is. Plus this image is in full color. Nuts-o, right?
My camera settings for this image is F5.0 at 1/800th of a second and ISO 320 with my Sony A7II and 16-35mm wide angle lens.
So as of now, the snow doesn't look like it's going to happen this week. I told you Washington DC weather can be kind of crazy so definietly be expecting a lot of fog images. Birch and I were walked a lot and probably stopped at least 20 times to say "woah" 🙂 I love foggy days in DC.