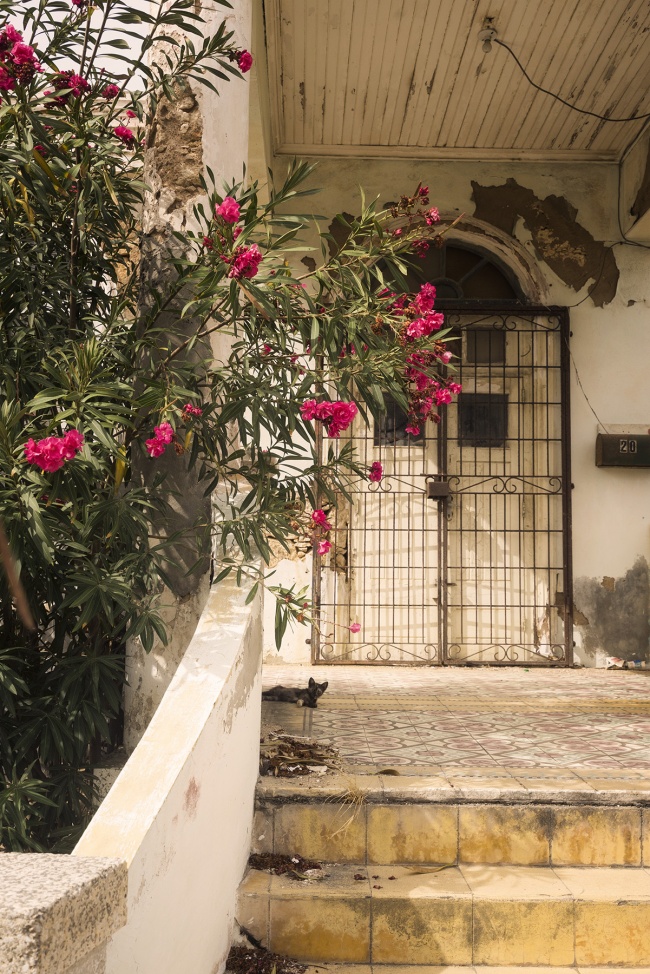 The first morning we were in Oranjestad, my friend Sue and I walked around the city. It was so cute and every turn had something new and unexpected. I loved all the colorful buildings and homes and this house was no different. It was the pink flowers that originally drew me in but then it was all the cracks and tears all along the facade that really made me want to photograph the house. I just loved all the details and really wished that I was able to walk onto the porch but there was a gate blocking us from doing that.
So I captured this image with my 16-35mm wide angle lens. As we were walking around more I felt like I wanted to capture more detailed shots of the house. I opened up my backpack, trying to dig out the 70-200mm when I noticed a cat was sitting on the porch! I had no idea it was there when I first took the picture so I tried to remain calm and quickly put my 16-35mm wide angle back on the camera before I went any further. I'm not sure what happened but the cat quickly got up and ran away 🙁 I was kind of disappointed that I wasn't able to capture the cat like I wanted to but went back to review my images and I'm so glad I was able to capture this. It's so funny because I didn't even know he was there in the first place. He was a tiny little guy so I wouldn't be surprised if you missed him the first time you looked at this image too. LOL.
My camera settings for the image is F8 at 1/800th of a second at ISO 320 with my Sony A7II and 16-35mm wide angle lens.