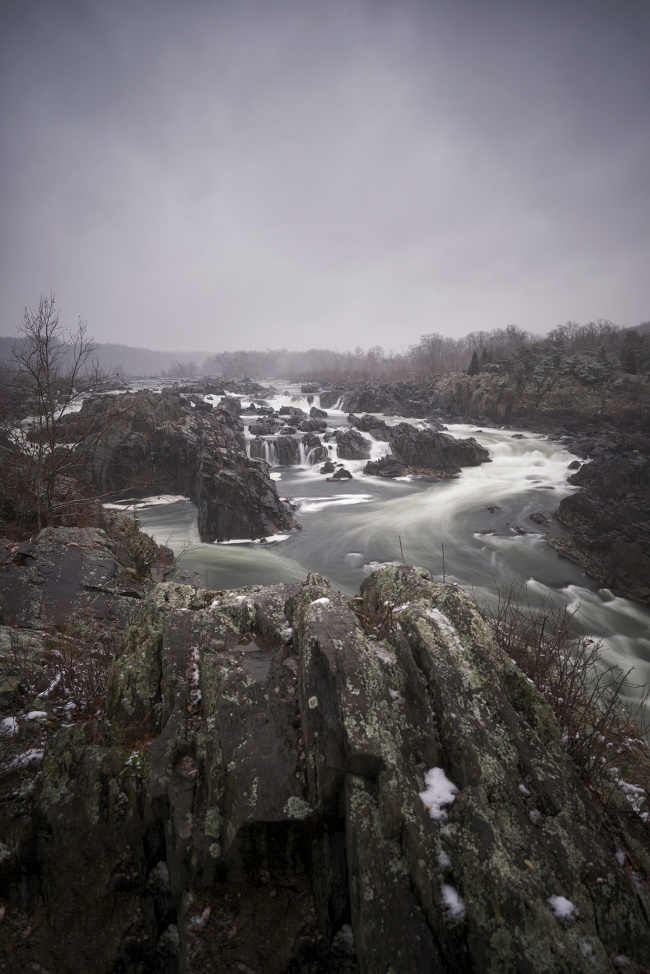 PURCHASE PRINT
We had our very first snow fall of the season over the weekend! It was perfect. It snowed all day Saturday, just one or two inches. Enough to stick on cars and the grass a bit but nothing on the roads. No mess to clean up, no fuss to worry about. Just the way I like it!
My friend, Larry and I went out to Great Falls Park to check it out. It's been a while since I've photographed the park and was really looking forward to shooting it in the snow. It reminded me of my high school days when I first got interested in photo. At that time, I didn't know how to drive so my sweet mom drove me in the snow so I could get the shots that I wanted. And wait for me in the cold to photograph the trees and water. It's crazy how things come full circle. I remember being really proud of those Great Falls shots in high school. LOL how time flies. I bet if you asked her today, she'd still remember doing that. SHOUT OUT TO MY MOM! I LOVE YOU AND APPRECIATE YOU! Even though you know I blog every day but still don't read them.
I am really looking to photographing more snow this season. I heard we're going to get a lot this year. I was sort of looking at this Great Falls Park photoshoot as the prequel. So many possibilities to shoot. And I'm really hoping for some drone shots thrown in there too! Let me know, what's your favorite weather to shoot? Mine is fog but snow could be a close second. Similar effects but more cold.
The settings for this image is F4.5 at 4 seconds and ISO 160 with my Sony A7II and 16-35mm lens.