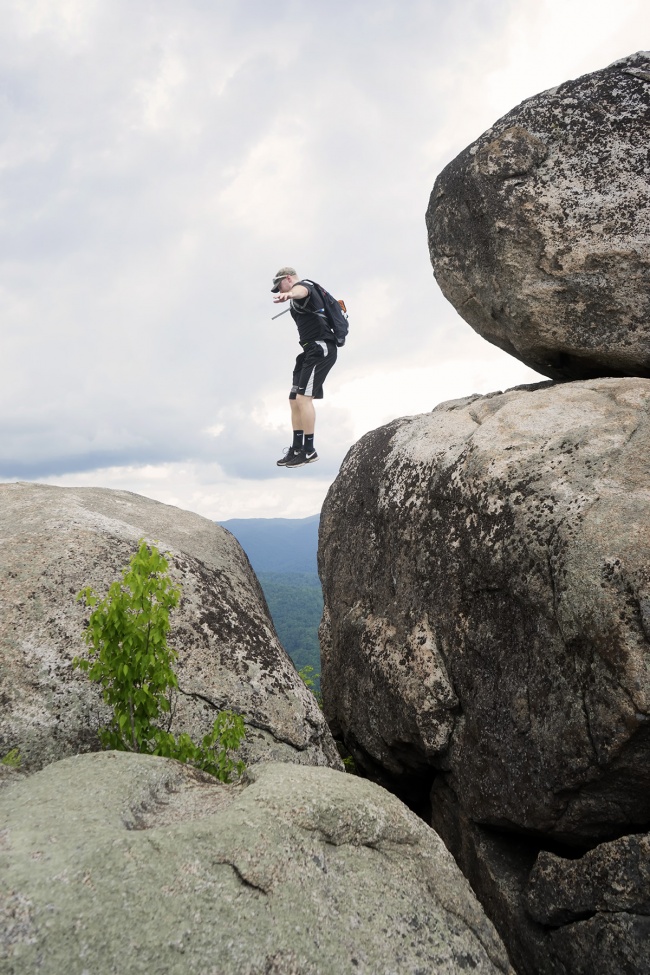 Speaking of a lot of images, over Memorial Day weekend my cousins, Andrew and I went on a hike in the Shenandoah Mountains. It was amazing. Andrew and I had done the Old Rag hike twice already but it's been a couple of years. I kinda forgot what it was like.
This time it was hot and super humid. *note to self, don't wear grey shirts when going on a hike. You'll get very visible sweat stains and it's not cute.*
I don't remember it being as strenuous as it was but the views are hard to beat. I took so many pictures during the hike that it's going to be a while before I'll be able to get through them all. I did post a few on my instagram stories a couple of days ago and this one was one of my favorites. We were on top of the mountain when there was a place where you could either climb down these huge boulders, gently and safely ORRRRR jump like this guy did. I chose the first option but while I was waiting for everyone else to cross, I saw this guy with his running start. I was able to get into position quick enough to capture his leap. I love it because it sort of looks like he's walking on an invisible tight rope. I checked my camera to see if I got the shot, looked up and he was gone. He must have been running to his friends or something because it was literally dust behind him. I wanted to get his email address so I could send him the whole series of jump, but oh well. Maybe next time.
In order to capture the jump, I had to put my camera on burst mode. My camera settings for this image was F5.0 at 1/800th of a second and ISO 400 with my Sony A7II and 28-70mm.