The city that never sleeps offers so many amazing places to photograph. Whether you like architecture, interiors, or street photography, New York City is home to so many possible photo opportunities. It's easy to be overwhelmed by all the possibilities, my biggest tip is to not plan so much in a day and take your time at each location. Each place is stunning and unique in its own way. It would be a shame to rush and miss some amazing experiences and photos. This probably means you should extend your stay now because NYC is honestly one of the best cities in the world.
So here's my list of the 15 best places to photograph in New York City:
Central Park

A visit to New York is not complete without a stop at Central Park, and it is HUGE. This particular image was captured in Bethesda Terrace in Central Park and is just one part of the 1.3 miles long park that spreads across 51 city blocks. There's also an ice skating rink, zoo, views of the city and so much more. If anything, grab some takeout and have a nice picnic on a park bench. There's no other place in the city like it.
The Metropolitan Museum of Art

Close to Central Park is the Metropolitan Museum of Art also known as the Met. A place where celebrities dress up in wild costumes for the Met Gala once a year and where you can see one-of-a-kind art. One of the largest fine art museums in the world, The Met offers many fantastic photo opportunities inside the museum.
Times Square
How can there be a list of places to photograph without Times Square? It's a must-see when visiting the big apple, especially at night. It's like the whole city lights up. I like to go after it rains. The reflections that are found can make your images really pop with color.
Or experience Times Square in a totally different way by visiting a rooftop. I created this from a hotel rooftop bar in Times Square. There are plenty of them, depending on what view you want to get but it can be absolutely breathtaking.
New York Public Library
Although it is a library used by students and academics, it's obviously a place that needs to be captured by photographers. Taking pictures in public areas is allowed for personal use but there are some places that are roped off too. Regardless, it's definitely worth the stop-in.
The Vessel

One of the newest attractions in New York City is the Vessel. It's a very cool experience to walk around the different levels and sides of it. Just be warned there's a lot of stairs. Or you can just go straight up on an elevator. I highly recommend taking your time and walking up the steps if you can. Also, try to go around sunset. It's great to see it glow!
The Edge
Right next to the Vessel is the Edge, located on the top floor of Hudson Yards, the Edge gives you amazing views of the New York City skyline and even New Jersey. The day we went had lightning in the vicinity so they closed the outdoor area for a few hours. So before you plan your visit, I highly recommend making sure the weather is clear.
Tudor City
In Tudor City, there is an elevated overpass with this view down 42nd street. I can imagine this view to be amazing any time of day or any time of year. Imagine this street covered in snow, or with colorful trees in the spring. A viewpoint that should be visited over and over again.
World Trade Center
A must-see transportation hub in New York City is the World Trade Center on the PATH system. Where the twin towers once stood now is an amazing memorial to the 9/11 attacks from 2001. The light is amazing and something to be seen, even in the middle of the day.
Fulton Center
Right across the street from the Oculus is the Fulton Street Station. A very cool stop since you're already in the area. Looking up you'll be in awe of all the concentric circles and different ways to photograph them. I highly recommend having your wide-angle lens for this station.
Grand Central Station
For some great indoor street photography, check out Grand Central Station. There's always so much commotion going on that you're bound to get some interesting shots. In order to capture this, I stood on the steps and placed my camera along the edge. I did not have a tripod with me but was still able to keep still for the 4 seconds it took to capture this image.
Chinatown
Another great place for street photography is Chinatown in the Lower East Side. I love it for its diversity and colors. It's always busy and you can always find something interesting to photograph, even when you're walking through some of the small alleyways. Bring cash with you if you want to get some cheap eats.
Top of the Rock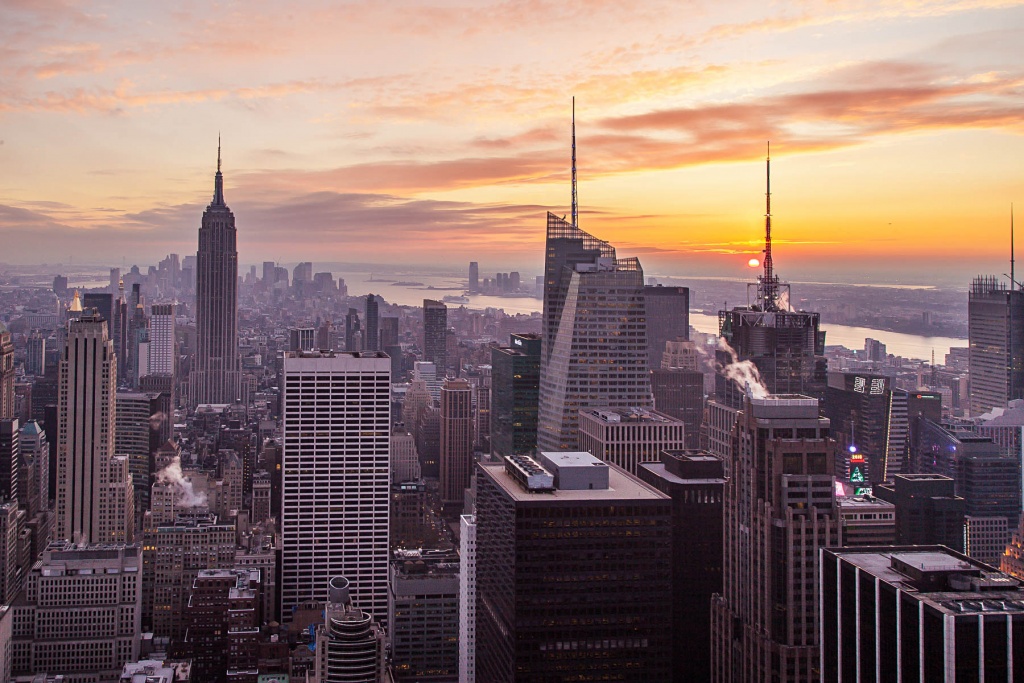 For the ultimate sunset spot, I recommend the Top of the Rock at Rockefeller Center. Even if though you are taking pictures through glass, you can still get very clear shots of the city. My biggest tip would be to put your lens as close to the glass as possible, touching it if you feel comfortable, so you don't get any reflections in your images. Viewers of your image will not know the difference!
Brooklyn Bridge
There's something about being able to walk across a bridge that is so cool. But walking across the Brooklyn Bridge really gives you a perspective on how far apart Manhattan and Brooklyn really are from each other. I've done this walk on a few visits and it never is boring, especially since the lower part of the bridge is for cars and the top is for pedestrians.
Brooklyn Bridge Park
After you cross the Brooklyn bridge, hang out at Brooklyn Bridge Park for sunset. It's a great view and some may say it's even better at night. Either way, you can't go wrong.
From the Airplane
I've only flown into JFK for layovers but it's always a treat to be able to see the skyline from an airplane. Definitely, a unique perspective if you can make it work, but that's the not only way to see it from the sky, booking a helicopter ride will also give you a great view and sometimes without any doors.
I hope this guide helps you get some ideas of what to photograph on your trip to New York City. Please let me know if you have any questions or comments below! Happy Snapping!