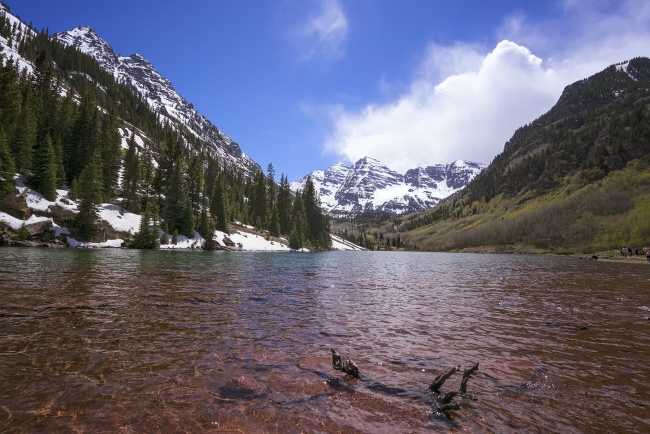 PURCHASE PRINT
Out of all the places that we went to on our trip to Colorado and Utah, Maroon Bells was my absolute favvvvorite. I loved it so much for many reasons. First of all, the walk was super short from the parking lot to this point of view. I'm not sure why that stands out so much in my mind, but it was awesome. Then once you actually see this view, you can't help but to say 'WOW'. I can't even imagine what it'd be like to shoot this during the autumn time when all the leaves are changing. OR during golden hour. OMG I'd be the happiest person in the world. And if you put those two things together… mind blown. Unfortunately, we only had about an hour here before we were off to our next location. But we'll be back soon and I'll be sure to spend some extra time in Aspen just for this park.
But if you asked me what was my favorite moment of this trip, it was the simplest thing. We were walking around the lake and Andrew and I were talking about what it'd be like to swim in the water. Then we started wondering about how cold the water actually was. So we dipped our fingers in and the moment my finger tips touched the water was one of my most treasured memories. The water was just so crisp and refreshing feeling. I don't know, it was such a simple act but it really made me feel connected to the environment.
We also saw 3 more deer in the parking lot of Maroon Bells. Deers seem to be everywhere in Colorado! I mean we have some in VA but not like how it is there. They move in herds!! But that's not the deer story I was talking about in yesterday's blog post 🙂 Just a little bit longer for that story 🙂 Hehe.
Shout out to Jason for telling me about this place.