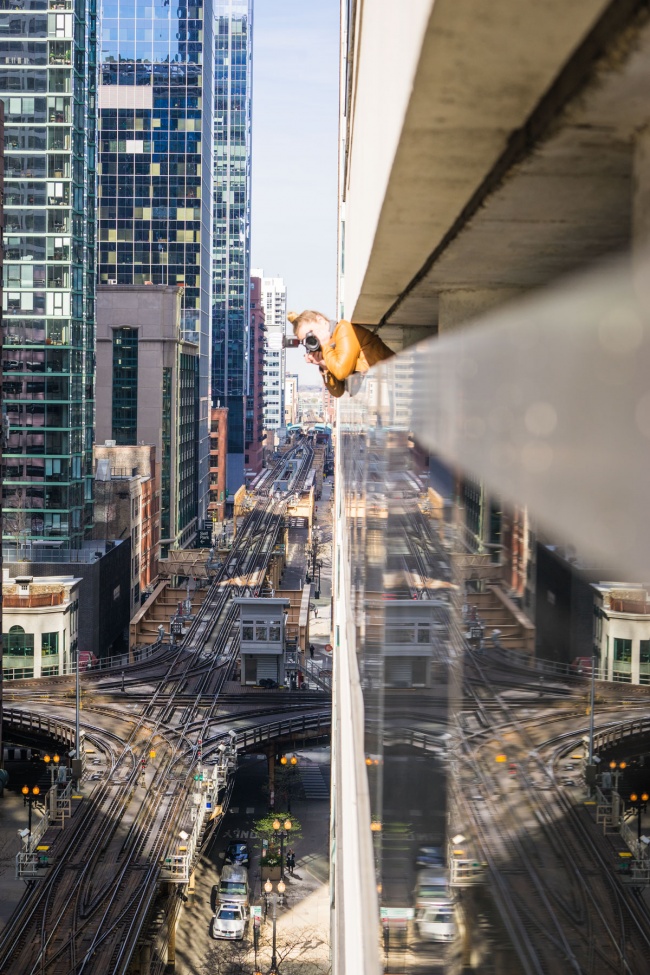 One of my favorite parts about Chicago were all the elevated points of views around the city. For example, I mentioned before this image was taken from an L train station which was about two stories above the ground. Besides the L train, there were many views from rooftops and parking garages that made it such an easy city to photograph with so many viewpoints.
This image was taken at a parking garage. My friend, Andy wrote a city guide (which I plan on doing as soon as I go through all my images) and mentioned this one in particular. I loved the reflective surface of the building and decided this had to be one of the spots I visited. It was so great that I actually ended up visiting this spot twice in one weekend. Luckily, it was close to our hotel so it was super easy to stop by. But the funny part is that there were other photographers there both times I went.
Andrew's not really one to be in my photos so I'm glad I was able to capture this photographer in her element. She had quickly just popped her head out, I think to check her settings and then popped right back into the garage but I am glad I was quick enough to actually capture this moment.
It was around 9a in the morning and pretty bright outside but one of my favorite parts about this image is the railing closest to my camera. I just love how it's glittering in the light. Probably a detail only I would notice, but it just captures my eye.
Since I visited this spot on two different occasions, be prepared to see more from here.
My camera settings for this image is F8 at 1/320th sec and ISO 250 with my Sony A7II and 70-200mm wide angle lens.