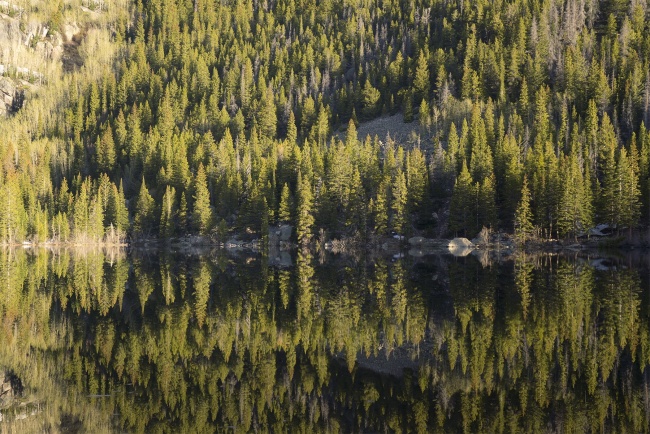 PURCHASE PRINT
Reflections day 4. Man, this is gettin' easy.
Check out day 1, 2, and 3
I took this image earlier this summer at Rocky Mountain National Park in Colorado. It was an early morning hike around Bear Lake and the water was so still. It was literally like a mirror when I saw it and immediately knew exactly how I wanted to capture it. I knew that I wanted it to look as if it were printed on a piece of paper and you folded it in half, you would see the exact same thing on either side. Kinda of like what you used to do with paint and paper as a little kid but with nothing else seen especially in the corners. I don't know why but I was paying particular attention to the corners when I was capturing this. I didn't want to give it any kind of location context.
A majority of the time, I'd probably want something in the foreground or something to divide it up, but not for this particular image. I wanted it to keep it as simple as possible and just enjoy the beauty of nature. Man, can you imagine what this place looks like now? It'd be so cool if the leaves changed color with this reflection. Praise hands emoji!
After I photographed this image, we ended up hiking around to this side of the lake but it was so difficult. The water levels were really high, there was still some snow on the ground (which you can see little bits of), and it was super muddy. Let's just say the hike didn't last too much longer after that. I'm really hoping to go back to Colorado in 2018. I seriously fell in love.
The camera settings for this image is F5.6 at 1/250th of a second ISO 160 with my Sony A7II and 28-70mm lens.