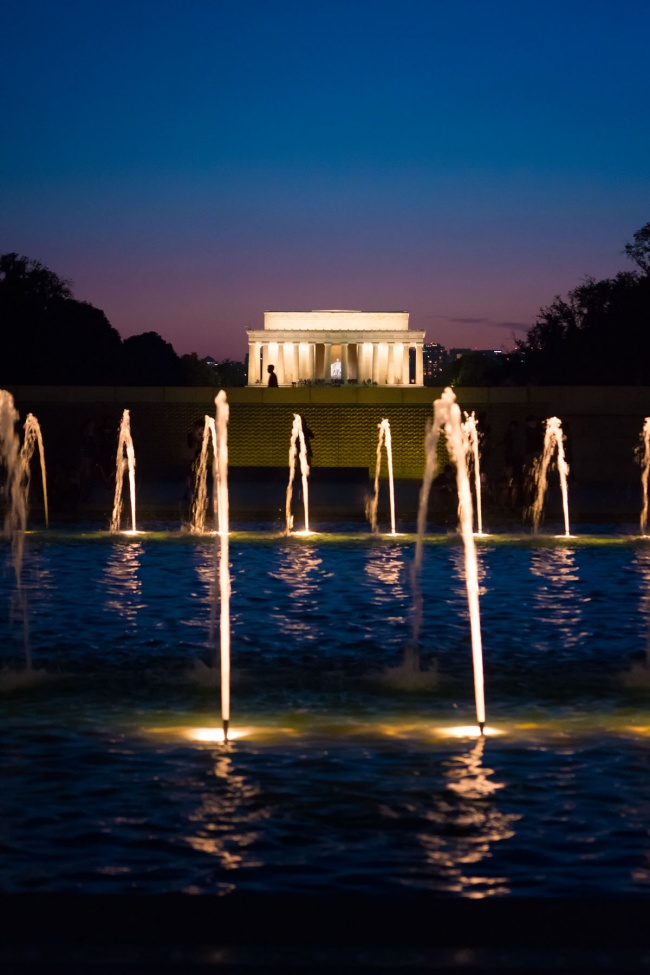 It's been a while since I've photographed the World War II Memorial in Washington DC. Sometimes the fountains aren't on in the mornings and in the evening, it can get really packed with visitors. And especially on hot days, people like to soak their feet in the water. So for a while, I just pretty much skipped the entire memorial and went straight for the Washington Monument or Lincoln Memorial.
But I'm glad I went back!
I was out with my friend, Birch just walking around and talking when she asked if we could stop by the memorial. There had been a shot that she's been wanting to get but never was able to. Of course, I said yes, so while she was trying to get her shot, I sat down on the steps to capture this one. I loved how the fountains looked like they were right by the Lincoln Memorial but I loved the silhouettes the Lincoln Memorial was helping to create. So I just sat there waiting for the precise moment to capture somebody walking by without too many other people in the foreground. I like the way it came out because there are just so many different layers to look at. And especially if you're familiar with this memorial, you know there's at least a good 2,000 ft between the World War II Memorial and the Lincoln Memorial.
My camera settings for this image is F4 at 1/30th sec and ISO 4000 with my Sony A7II and 70-200mm zoom.