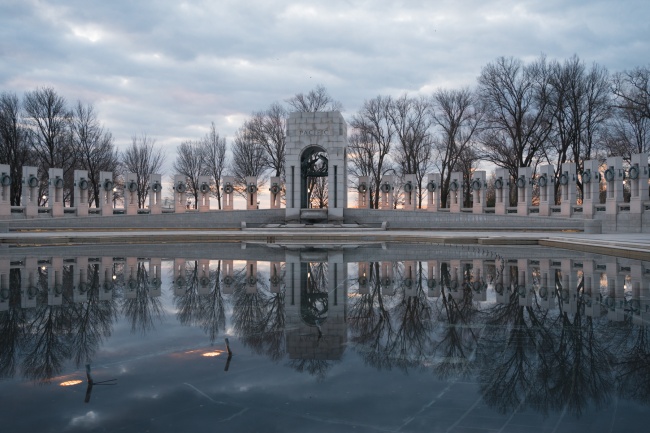 This image was taken on the same day as this one. When I first arrived at the reflecting pool about 45 minutes before sunrise, I saw that the World War II memorial was beautifully lit with the fountain flowing. So I got busy trying to capture the image I had imagined in my head. After 10 minutes of being there, the fountains turned off at the World War II memorial. It was unfortunate because the image I had imagined had to do with the fountains. So I shifted my focus on photographing the Atlantic side of the memorial.  But then I didn't even notice that the Pacific side was glowing with color! It was one of those mornings when I seemed to be a little off with everything but oh well. I was glad I went out either way.
So when I finally noticed the color, I ran with my tripod inside the memorial. You may see that I caught a little bit of the remaining color, but it was pretty much gone by the time I set my camera back up. Either way, I still think the reflection turned out so nice and crisp.
I should look up the fountain schedule thou. It was so weird that they turned it off at sunrise. I wonder when they turn it back on?
My camera settings for this image are F5 at 1/16th sec and ISO 1000 with my Sony A7II and 35mm prime lens.