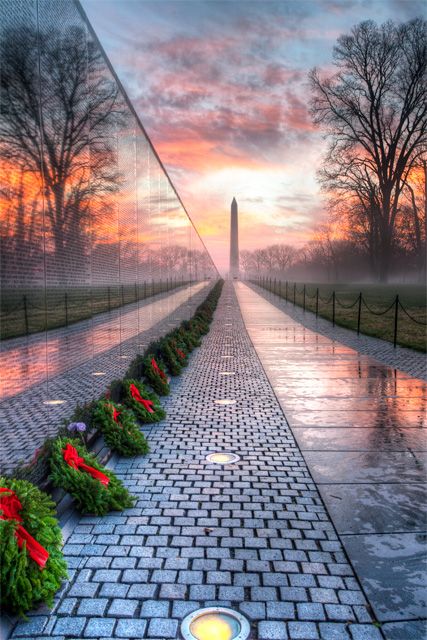 PURCHASE PRINT
Happy Veterans day! Living in the Washington DC area and photographing the monuments in the National Mall has definietly taught me to appreciate all the service and sacrifice veterans go through every single day. I could not be more thankful for my beautiful life right now and a large part has to do with them. Whether it's from talking one-on-one with veterans, seeing all the trinkets left at the Vietnam Veterans Memorial during Memorial Day, or just seeing them ride at Rolling Thunder, I have a special place in my heart to all the men and women who have done so much for me and our country. I feel like the best way that I could possible honor them is by going through my images and collecting some of my favorite images of the war memorials. It's my way of honoring such the brave men and women of our country.
The image above was taken in December 2012. I was lucky enough to have all the elements lined up: fog, holiday wreaths, amazing sunrise. I'm so honored that this image has been shared over 100,000 times and the reaction and messages I have received from it has been nothing short but amazing. Thank you so, so much.
In the beginning of 2012, I created this image on a cold winter morning in January. I couldn't believe how beautiful the colors were in the sky and I'm so grateful to have been at the right place at the right time.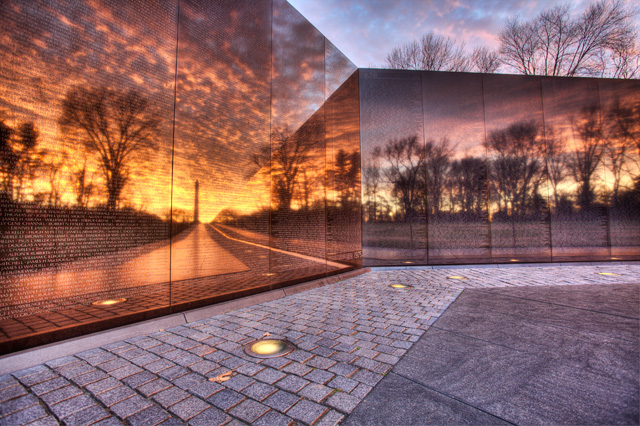 A unique look at the Vietnam Veterans Memorial. I honestly think that it's one of my favorites. I love the reflection of the sky and Washington Monument. My favorite is that little peak-a-boo elements of the trees in the background.
I'm sure you can tell by now that my favorite time to photograph the monuments is at sunrise. It's just so quiet and peaceful. I'm usually the only one there and it allows me the time to really appreciate the monuments for all that they are. I love how the sun is peeking out over the WWII memorial.
Thank you today and everyday, Veterans. This is a small token of my forever appreciate to you.