Happy Weekend!
Hope you all have a great Labor Day weekend. This past week has been a really fun for me. First off, I filmed a new video about 4 essential lenses for nature, landscape, and travel photographers:
Here are my images from the past week:
One of my favorite Great Falls images I've taken to date.
Here's a rather cloudy shot of the Capitol, the morning after Hurricane Irene.
When I think about Cozumel, I think about this.
Towards the end of the week, I decided to practice my macro. I think its really important to be good at various types of photography. So, heres an image of two red flowers. Then I posted my very first water droplet image!
Last week State of NOVA was so awesome and posted my image from Old Town Alexandria.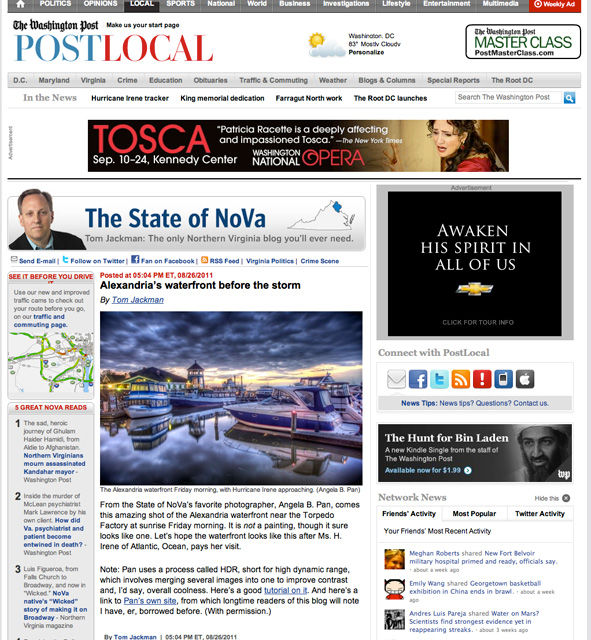 FamousDC was so nice and wished me a happy birthday. Plus they changed their background and its my Capitol at Sunrise image. YAY!!

Thanks for reading and I hope you guys have a great weekend!
Angela
Hey Everyone!
Hope you all had a great week! I did 🙂
Here's what's been going on:
I was at the US Botanical Gardens and posted a few pictures: Pink Orchid and Name that Flower. Name that flower has still remained nameless so if you know, please comment below! The flower is beautiful!
I also filmed a Vlog there. Check it out!
I went to visit the Lincoln Memorial again. It's my favorite spot for sunrises in DC.
Next up was an image from Great Falls National Park. My favorite place for sunrise images in VA.
Lastly, I went to visit the Library of Congress for the first time. Can you say GORGEOUS?! Expect a vlog of that real soon!
I also made a comeback on FamousDC. YAY!

So thats it for me! I have an exciting weekend up coming up and I hope you all do too!
See ya next week 🙂
Angela
'Subscribe' to my YouTube
Check out my Gallery
Tweet with me
'Like' me on Facebook