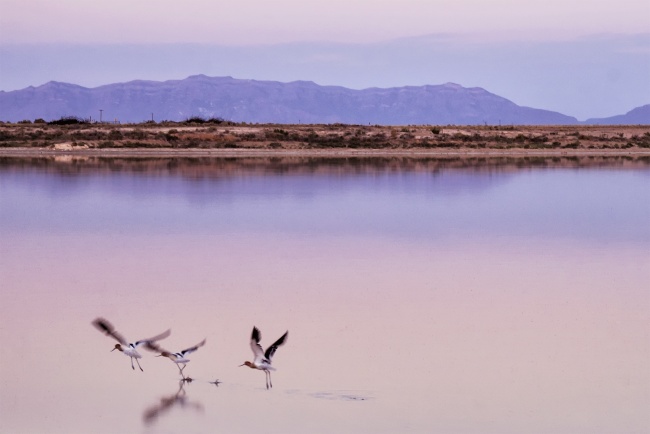 PURCHASE PRINT
I know its wrong but whenever I travel and check the hours for a national park, I kinda just assume it's more like a guideline as opposed to an actual rule. I think it's because there have been so many times at so many different parks that the gates are left open and I just drive right through. Well this is definietly not the case at White Sands National Monument. They closed the gate! I was so disappointed that we woke up early just to go take some sunrise shots and it was closed.
But since we were already up, dressed and ready to take some pictures, we decided to pull over at this camp site spot near the entrance of the park. It had really pretty cactuses and a lake that maybe we could get a few shots in. I didn't really expect much but then I saw these three birds just hanging out in the water. I knew they were going to fly away as soon as they saw me so I did my best to slowly approach them. I only had my 28-70mm so I wasn't able to zoom super close to them like I would have wanted to. Regardless, I'm really happy that I was able to capture them taking off. My favorite part of the image is that one little water drop in the middle of the second and third bird. Such small details like that can really make an image. For me, my eye keeps on going straight to that spot and I love it!
So listen to me now. If you're going to White Sands National Monument, definietly get your beauty sleep in so you can be ready to shoot sunset. Sunset is where it's at at White Sands! 
Settings for this image was F7.1 at 1/200th of a second ISO 500.