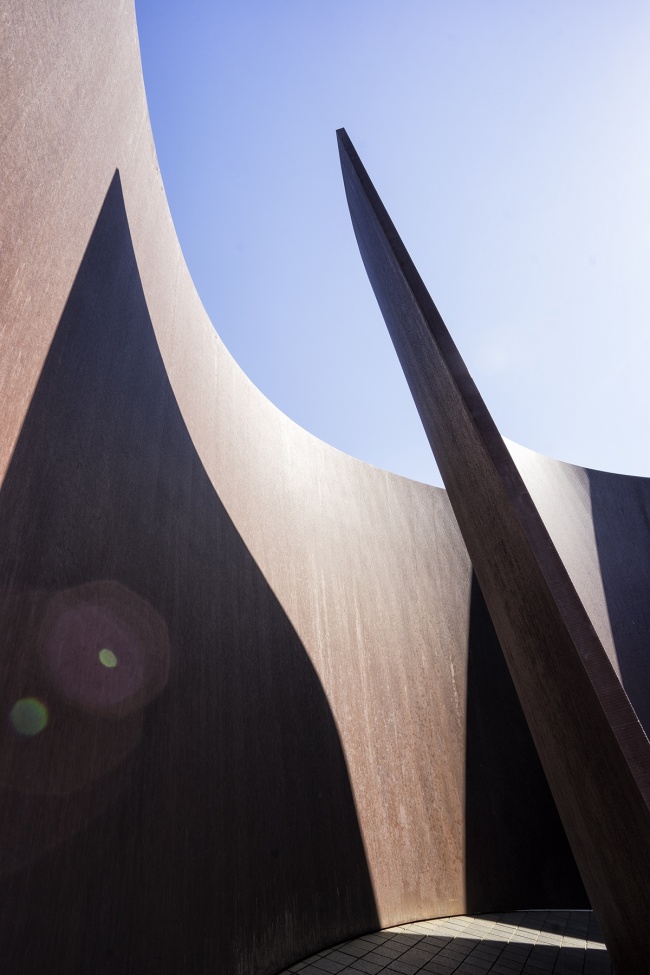 About two weeks ago, I visited Glenstone Museum again. My second time visiting but just as great as the first. This time however, I was really hoping to see Split Rocker in full bloom, which he was and it made me so happy. I circled him about 3 times while smiling before we had to go on with the tour. It's crazy to see such a huge statute full of flowers. Props to Jeff Koons.
But I think my unexpected favorite was the Richard Serra piece called Sylvester. From the outside, it doesn't look like much, but as you circle to the inside, you get all these amazing variations of sunlight and shadows. Also the way that the piece divides the sky is very cool too. I bet it'd look amazing during a really puffy, cloudy day or even a nice sunrise/sunset.
And it's actually much bigger than you think it is but doesn't take much effort to walk through, if that makes sense? Once you're totally inside, the acoustics in the center are totally amazing. You can totally feel your voice echo inside you. Kinda surreal. But I can also see how it'd be distracting if you were trying to hold a real conversation.
So walking out, I noticed this form. Again it was the shadows and the lines that really drew me into this scene. The sun flare from the lens was an added bonus that adds a little bit more interest into this piece. I don't know, abstracts like this isn't something I usually photograph or post. What do you think of it?
If you ever want to have a unique museum experience, make sure to book a tour at Glenstone. It's privately owned so you have to have a reservation but it's completely free. Totally worth it, especially if it's a really nice day and you can enjoy the outdoor sculptures.
My settings for this image was F/9 at 1/160th of a second at ISO 200.