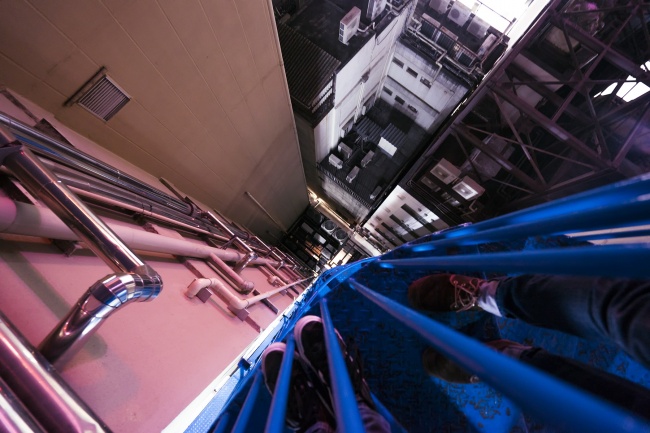 PURCHASE PRINT
Afraid of heights? Yea, me neither. I actually think heights can be fun. Sometimes.
This was taken looking down from a rooftop in Ginza, Tokyo during a fun photo tour I had with Eyexplore Tokyo. I joined them for one of their Vertigo tours and it was definietly a different view of the city than I was expecting. In this image, we were looking down at 3 or 4 different buildings. Hard to tell how many there really are because all them are so close to each other. But most of the time we were confined to really tight spaces on top of these buildings. So, I'm the one wearing black shoes and the tour leader, Axel is wearing the brown ones. Andrew was directly behind me so he didn't make it into the shot but that was basically as much room we were given on this rooftop. Just goes to show you how smushed we really were and how super jammed pack the city is. There was definietly not enough room for tripods at all. Good thing the Sony a7ii is so great in low light situations. I was using the balcony for camera support during the longer exposure times.
The camera settings for this image was f/4 at .5 sec at ISO 500. The ISO definietly had to be bumped up to compensate for the lack of tripod. But I'm glad I was still able to capture the colors and angle so nicely. For sure a difficult shot and if I had the opportunity, I'd love to do something similar in DC. But I'm not sure how rooftop-hopping would go in these government secured buildings. LOL.
If you ever find yourself in Toyko, consider joining one of their tours. I'm sure you'll learn a lot, like I did 🙂 Tell them Angela sent you.