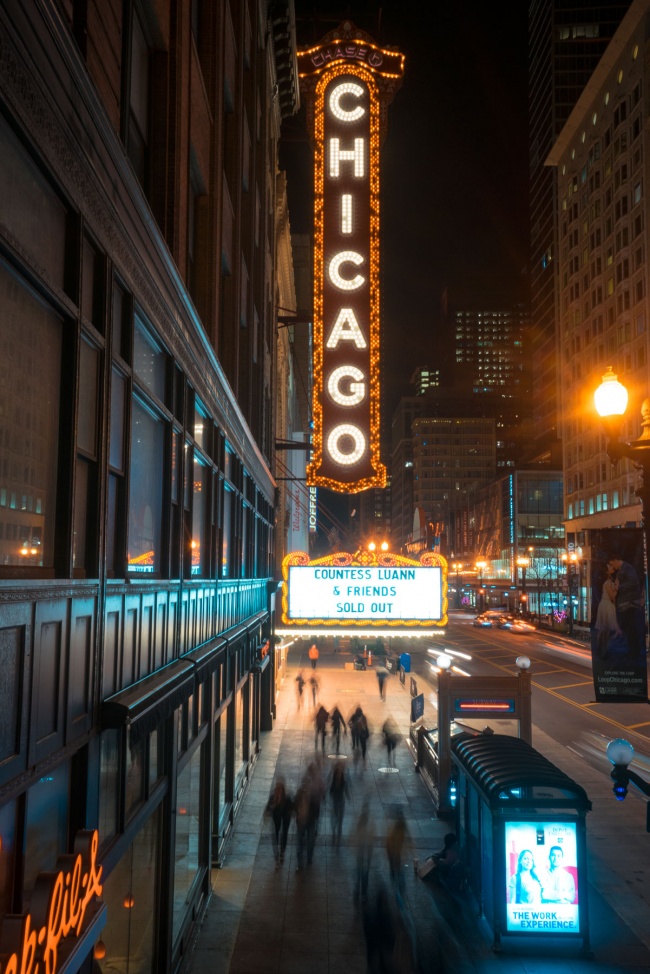 When I was looking up different places to take pictures of Chicago at night, the Chicago Theatre came up in so many of my search results. I think if you're visiting Chicago it's a must see. But most of the other images I have seen were of cars driving past and getting the light trails from that. I wanted to try something a little different. I saw some other images where you could get an elevated view point, so I thought I would combine the two and hope for something cool.
This was taken after dinner and dessert. We walked over to the sign and I noticed how many people were walking by taking selfies so I thought it would be interesting to try to get a long exposure of that. It also helped that the Chick-fil-a was right there so I was even able to capture people walking out of the fast food restaurant. I think it turned out a little creepy but an interesting take on the landmark.
So if you're interested in joining me in Chicago in July, we're actually running a sale on the workshop. Click here for the details and looking forward to seeing you there 🙂 I heard it can get real hot in the summertime which I can't even imagine at all. It just snowed there again over the weekend!
PS Can I be honest. One of the highlights of my day is when I look at my blog and see people have 'hearted' a blog post even if I haven't shared it on social media. It honestly makes me smile knowing that you just come to my blog just to see it. I can't tell who does it but I really, really appreciate it! Thank you!
My camera settings for this image is F20 at 1.6 sec and ISO 200 with my Sony A7II and 16-35mm wide angle lens.