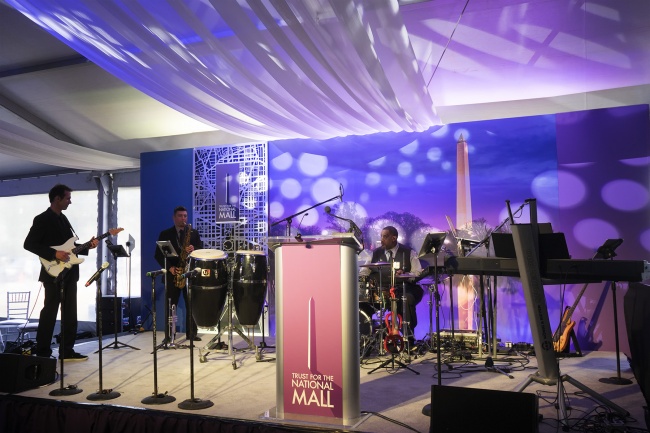 I try to go to events and things with no expectations. That way you won't be disappointed when it doesn't turn out the way you want. But I knew from the very beginning that Ball for the Mall was going to be an evening that would be hard to forget. In the end, Andrew and I had the best time ever.
I know my words won't do it justice but the evening was magical. Andrew and I ubered to the Mall and as soon as we walked up to the tent, I saw one of my images greeting all the guests at the front door. If that was the only place my image was displayed, I would have been the happiest girl in the world. Before I could do anything else, I pulled out my phone so we could take pictures.
The event was held on 12th and Madison Dr, right in front of the Smithsonian National Museum of Natural History. The weather was absolutely perfect. I didn't even need a jacket. Which was amazing because they also had an area blocked off for a special monument viewing station.
As Andrew describes it, the interior of the tents was as if it were a gallery showing of my work. There was a huge blown up piece behind the band, an ever bigger piece behind the bar and all throughout the dinner a slideshow of my work. Little signage and even printouts of my work made it feel even more special.
Obviously I had to take pictures of the delicious food we had. I really wish I had taken pictures of the appetizers that were being passed around. My favorite was this lobster bite drenched in butter. YUMMM.
In between speeches and dinner being served, I asked Andrew if we could sneak to the front of the venue to try to take some pictures of the displays without people around. Not sure how this even ended up happening but it is so awesome. LOL. The image behind me was definietly my favorite out of all the ones that were displayed.
Thank you so so much, Trust for the National Mall for an unbelievable evening. It's something that I'm going to treasure for a long, long time. It was an absolute honor to be there and an even bigger honor to have had my work featured at such a spectacular event. Thank you xoxo