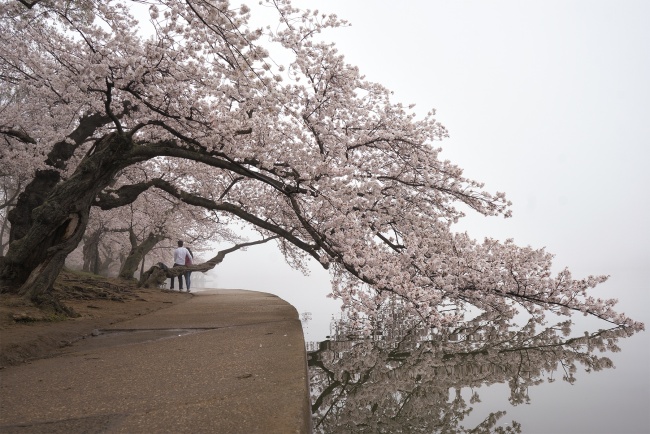 PURCHASE PRINT
Out of all the cherry blossom images I took this year, this one has got to be my favorite. I admit theres not as much color, saturation or editing that was involved in this one compared to some of my other images but I can't help but love the mood it evokes. It's also a take on the cherry blossoms that I don't think I've ever seen before from the Tidal Basin. It was from last Monday when it was super foggy out. I had been walking around all morning capturing the fog and was having a total blast. But like everything else, the fun had to stop at some point. I walked the scenic route back to my car from the Jefferson Memorial and was stunned when I saw this. The high tide had risen so high that the low hanging cherry blossom branch was able to touch the water. It was just so soft and delicate, I had to find the perfect way to capture it all.
It was also amazing that there was barely anyone around. Maybe because it was a Monday morning and most people were at work at that time, but everything was just so silent and still. The couple sitting on the branch had been there for a while taking selfies. I had to include them to convey a feeling of peace and calmness of just relaxing on the tree trunk.
My camera settings were F/6.3 at 1/80 of a second ISO 200 with my 28-70mm. No particular reason for my lens choice. I think I had just been walking around with it on and didn't feel the need to switch to the wide angle. I wanted to capture the scene as quickly as possible.
This is my favorite for now. I took so many images these past few days. Another one may pop up later that I love even more. We shall have to see <3