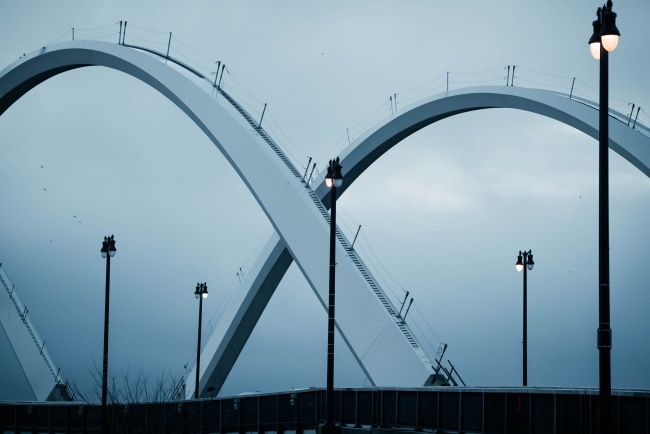 The Frederick Douglass Memorial Bridge started construction in the Summer of 2017. Every time I visited the Navy Yard or even the Tidal Basin, I was eagerly waiting for the completion of the bridge. From afar, it looked really cool with the arches and I loved how there was going to be a pedestrian walkway to allow people to walk or bike from DC to Prince George's County, Maryland. You know me, if there's a new vantage point in the city, I'm excited to go check it out.
So in December, my friend Makeeya, asked If I wanted to meet up for an early morning walk around the Navy Yard and then eventually walk across the bridge. I had no idea that the bridge was even open for pedestrians so I was all for it.
Walking across the bridge was beautiful. I loved seeing the arches
Once I got close and I was really fascinated by the reflections I saw in the barriers between traffic and the pedestrian walkway.
It's very evident that there is still construction going on on the bridge. There are cranes and construction vehicles surrounding the bridge but open traffic.
Once we got off the bridge, we ended up walking along the Anacostia Riverwalk Trail in Price George's County, MD. I feel like views from this trail will be beautiful in the spring or fall of the Navy Yard.
And to complete the circle, we went onto the 11st Street Bridge to go back to where we had originally started our photo walk. It was a great time to be out and see the city transform before our eyes. I can't wait until Fall 2021 when the bridge is supposed to be complete and I can photograph it without all the cranes or construction around it!