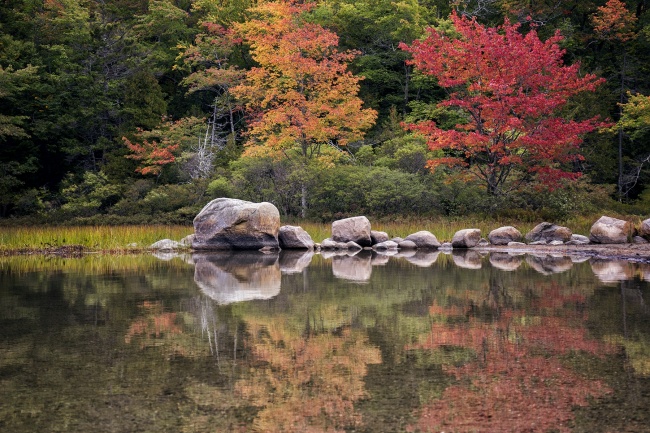 PURCHASE PRINT
Before leaving for Maine, I had the assumption that Acadia National Park was small. I'm not sure why I thought that but Holy Cow was I wrong! It reminded me of a mix of Shenandoah National Park and Rocky Mountain National Park with beautiful scenic drives and so many places to pull over and take pictures. And both places are huge. Like Yuge. There was no way we would have been able to see it all in less than a week.
So, we really only had time to explore a portion of the park. On our last day in Acadia, Sue and I decided to head over to the Southwest Harbor which was an adventure all on it's own. We shot sunrise at Bass Harbor Lighthouse and made our way over to Echo Lake Beach to start our morning hike. The beach itself is really small but the reflections were amazing. I was having a field day with these rocks. I love how they divide the image and add an interesting focal point. Luckily, I was wearing my timberland boots so I was able to step in the water a little bit without getting wet.
I wish we were able to spend more time in the Southwest Harbor. It seemed like there were so many more colorful trees in that area than anywhere else we in the park. Our hike up Canada Cliffs was one of my favorites. It's very steep and uphill but the view was completely worth it. I loved seeing all the trees from up above. I'll be sure to work on one of those images soon. You'll love it if you love fall and pretty things 🙂
The settings on my camera for this image is 1/50th of a second at F/8 ISO 250 with my Sony a7II and 28-70mm zoom lens.