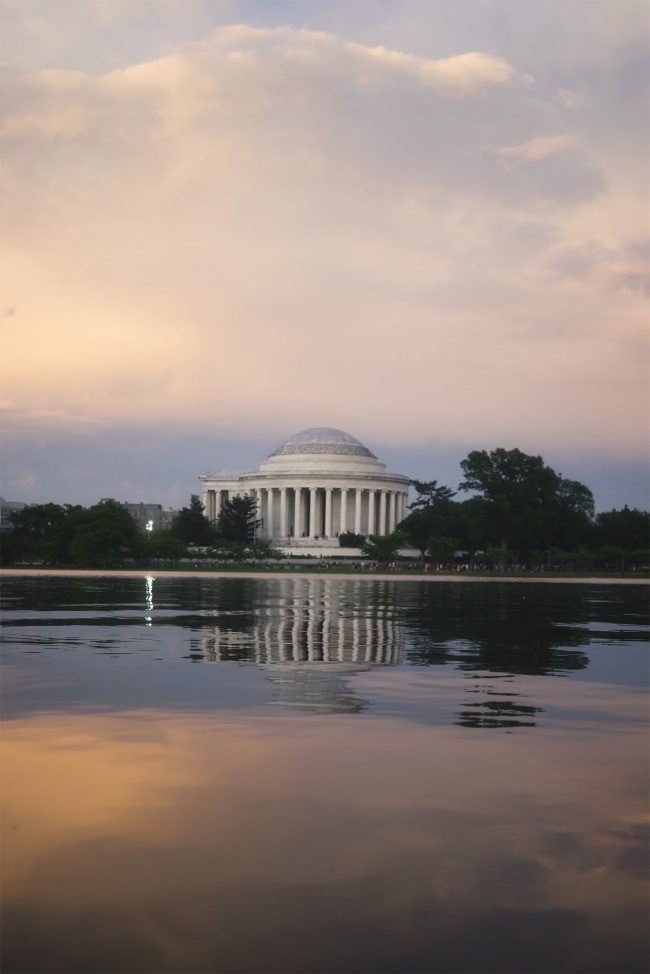 Thank you all so much for your amazing feedback on Snap DC. I think I check amazon almost everyday just to read the reviews. They make me so happy and I'm so glad everyone is getting so much value out of the book. If you haven't already, sign up for Snap DC's newsletter list. I just updated it so that you'll receive a free photo itinerary for a 1, 3 or 5 day trip to Washington DC. It really is the perfect supplement to the book and it was so much fun to create.
Obviously, the Jefferson memorial and the tidal basin are in the book. Lately, the tidal basin has been my go to place to go shoot. I love the reflections but there's always something interesting to photograph there. If you look close enough at this image, you can see the bus loads of people visiting the memorial. This was taken around sunset so the memorial is packed with tourists. In the book, I discuss my favorite places to photograph at the tidal basin including the spot where I was standing to take this image. Andrew and I were the only ones there and to be honest, I probably got the better image of the memorial than anyone who was that close to it.
So to find out all the knowledge I have accumulated throughout my years of photographing the Mall and surrounding areas of Washington DC and check out the book and don't forget to download the itineraries! I'm pretty sure the most frequently asked question I get on social media is, "did I move to the Mall?" The answer is no, but it would be so much easier if I did 🙂
My camera settings for this image is F7.1 at 1/250th of a second at ISO 400 with my Sony A7II and 16-35mm wide angle lens.