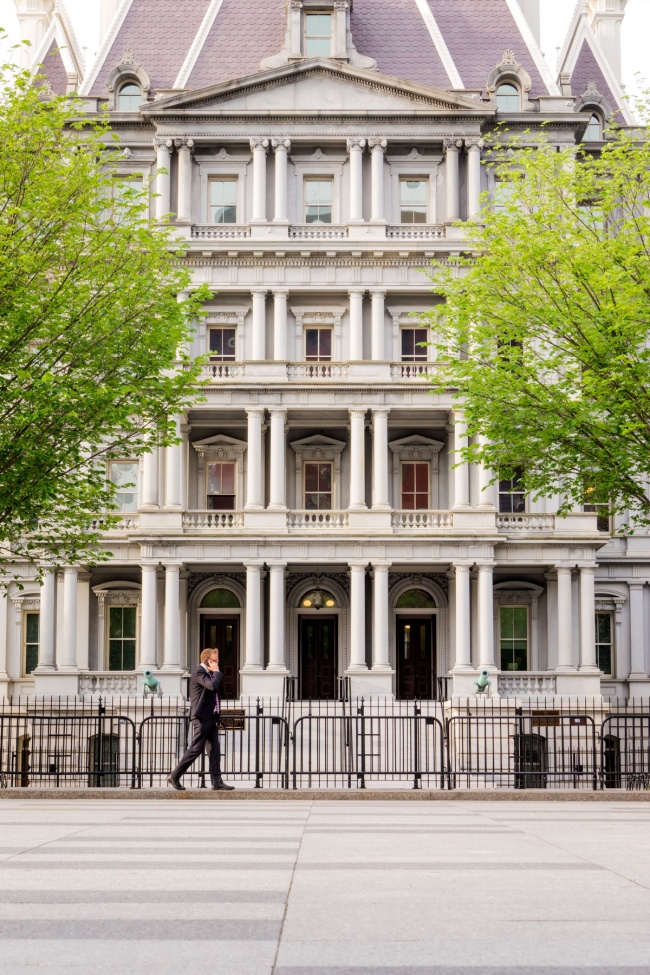 Out of all the beautiful buildings in Washington DC, the Eisenhower Executive Office Building is one of my favorites. It's located right next to the White House so it is not difficult to find but I always find myself trying to capture it whenever I'm close by.
This image was taken around 7:30a on a Friday morning. Right around the time people are commuting to work. I met up with my friend, Birch with intentions of capturing stride bys but wanted to get a lower perspective of the scene. So we sat down on the curb across from the building and just waited for people to walk by.
Right in front of the White House, Eisenhower Executive Building and Treasury Department, along Pennsylvania Ave, the section of the road is closed. It's only for pedestrians so it is a great open space to just people watch. I found this man to be particularly interesting just because hit fit the mold. The busy business man or government official on his phone with so many things to finish up before the work week ended. He had no idea Birch and I were across the street, just observing and talking about different skin care routines. LOL.
I also really like how the only colors in this image are from the trees that are framing the building and this man. I think the little pops of green really help to complete this image.
My camera settings for this image is F13 at 1/80th sec and ISO 500 with my Sony A7II and 70-200mm zoom.