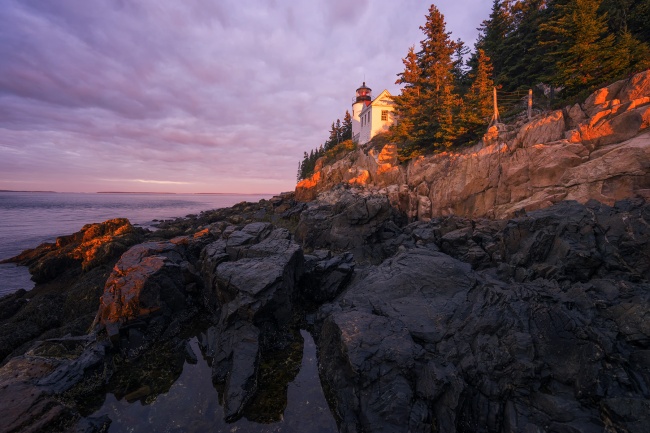 PURCHASE PRINT
And then there was that time I went to Maine for the first time. Man, talk about a cute place to visit and I'm sure to live. I felt so happy while being there. Everything was so nautical and clean. Everyone was so pleasant. We spent most of our time in Acadia National Park and Bar Harbor but I'd totally go again to spend more time in Portland and other areas of Maine. And those lobster rolls!!! *Praise hands emoji* I definietly need to spend more time with those lobster rolls in the future 🙂
This image was taken at Bass Harbor Head Light in the southwest portion of Acadia National Park on the last morning we were in Maine. Now that I think of it, I wish it was one of the first spots we went to. This area of the park had the amazing fall foliage that we were hoping for our whole trip to Acadia and it was noticeably less crowded.
Getting down to this point of view was a little difficult. The rocks were pretty steep and slippery from the crashing waves but was so worth it. As soon as the sun rose in the sky, it casted this amazingly beautiful warm red color over the head light. (P.S. Why do they call it a head light and not a lighthouse?) My favorite is the red light being casted on the rocks on the left hand side of this image. Theres something about those dark black rocks contrasted with the warm sunlight that I really enjoy.
If you're interest in seeing more from our trip, check out this youtube video I created. Just watching it brings back so many great memories.
The settings for this image is F4.0 at 1/60th of a second and ISO 320 with my Sony A7II and 16-35mm wide angle lens.