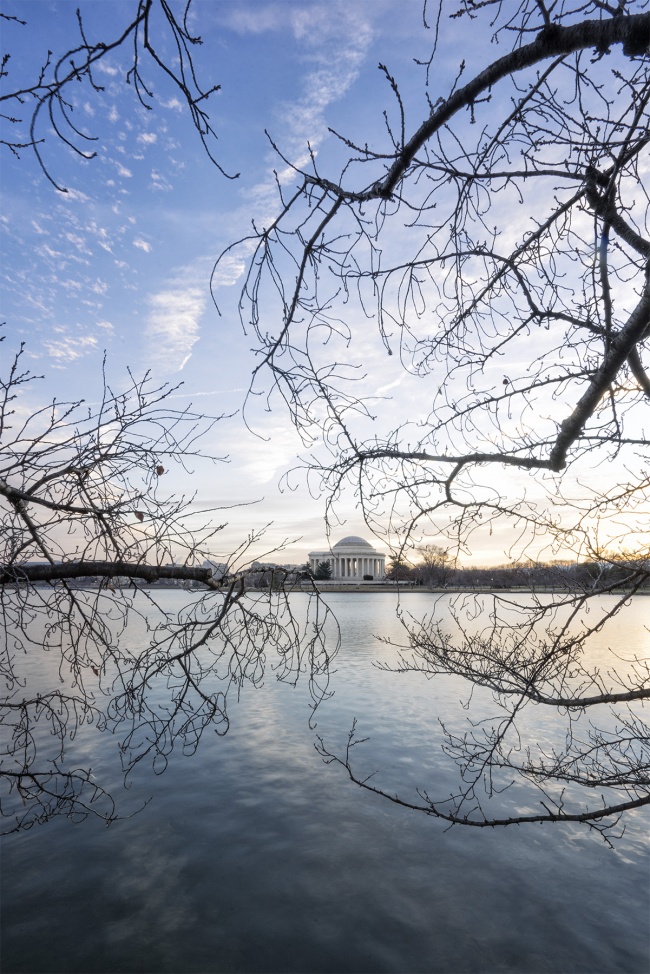 PURCHASE PRINT
Even though it was Christmas Eve, I still wanted to go out and capture the sunrise. On this particular morning the sunrise was beautiful but very fleeting. The colors in the sky only lasted for a couple of minutes and then went away. So I figured I would walk around more and see what else I could find. Luckily, my family didn't have plans of getting together until lunch so I had time to wonder.
I've mentioned this before on the blog, but I am constantly moving and walking while I am out taking pictures. I honestly feel like there is nothing worse then going home with a memory card full of the same images. I can understand if you're standing in the same spot and sky is changing or something like that but I really like to capture a scene and then keep it moving to find a different or even a better composition. So while I was wondering around, I found these cherry blossom branches that perfectly framed the Jefferson Memorial. I mean seriously, could it be any more perfect? *In my Chandler Bing voice*
My favorite part of this image is how cold it feels. Yes, it was a cold day but I think the blue sky and the blue water help exaggerate the feeling along with the bare branches. This image was obviously taken in the winter time. And just like this previous tidal basin image, I really like how the clouds are mimicking the branches. It definietly adds to the framing and repetition of the image.
My camera settings for this image is 0.4 seconds at F22 and ISO 80 with my Sony A7II 16-35mm. You may or not be impressed that this was handheld, no tripods. When I read my camera settings, I was impressed… so….