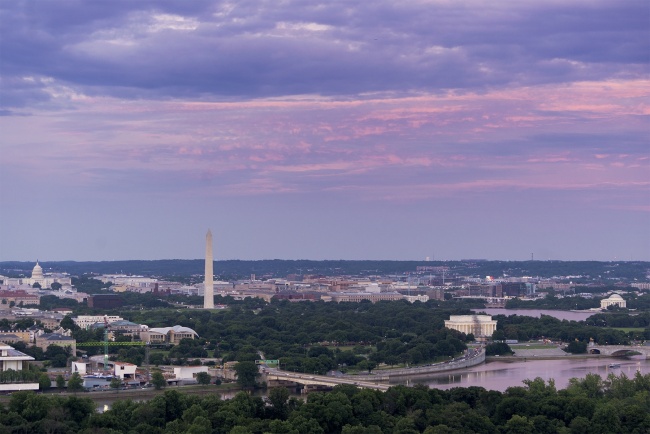 PURCHASE PRINT
Last week, I had THE best rooftop experiences O F M Y L I F E !
Thank you so much to Albert for inviting me to Rosslyn, Virginia where they were holding a cocktail reception celebrating Rosslyn's newest development Central Place. Central place is a high-rise apartment building and its absolutely GORGEOUS. Inside and out. For the most part we were on the 6th floor lounge area enjoying the cocktails when around sunset Albert, Anna, Lindsey and I asked if we could be escorted upstairs to one of the top levels. This is the view from the 26th floor lounge. Yes! This apartment complex has 2 lounge areas, a pool with Miami FL vibes, and seems super dog friendly. All huge pluses for me.
My jaw dropped as soon as we went to the outdoor patio. Never in my LIFE have I seen a view with all four landmarks in one shot. It's the Jefferson Memorial on the very right, the Lincoln, Washington Monument and then the Capitol in the back left side. It was absolutely breathtaking. I really just wanted to claim a little corner of that space and live there forever. I feel like I could watch this view from sunrise all the way to dawn.
Luckily we had some rain earlier in the day and the sun came out just in time to create these cotton candy skies. I'm pretty sure the camera gods knew I'd be taking pictures at the best view ever so I appreciate them looking out! Either way, I don't think anyone could ever take a bad picture from this view point.
I'm also super happy that I had my 70-200mm with me. It was an amazing way to break in the new lens!
My camera settings for this image is F5.0 at 1/50th of a second ISO 400 on my Sony a7II handheld.