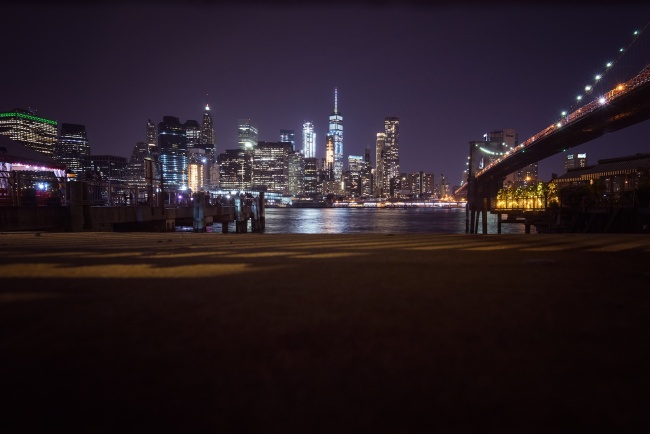 PURCHASE PRINT
When we first arrived in New York, Brooklyn Bridge Park was one of our first stops. We originally went to go get ice cream but ended up walking across the Brooklyn bridge. Kind of.
But I did not have a tripod with me. Andrew and I were just planning on taking it easy and not really do much that evening since we were both tired from travel. No problem at all. As long as I have my camera, charged batteries and my memory card, I'm down for whatever and not having a tripod pushed me to find creative ways around that. So as Andrew was finishing up my ice cream (they gave me wayyyy too much), I was trying to find different ways to keep my camera sturdy in this evening light. I took quite a few shots. Some from the ground, some from leaning against trees, etc. This image turned out to be my favorite composition.
If you look towards the left of this image on the pier, you can see how there's a fence there, right? Well that same thing was going on right in front of me so I kneeled down and put my camera on the ground, in between the wood from the pier and the iron fence. So thats what the foreground texture is. The wood grain. I love how it turned out and how it's so noticeable. I also think it adds a different element to the image having the bottom half so dark. For some reason it kind of reminds me of Gotham City from Batman.
The settings for this image is 1.6 seconds at F7/1 ISO 800 with my Sony A7II 16-35mm.
Have a great weekend everyone! Hope you all have something fun planned and if you do, let me know in the comments. Stay safe! I can't believe September is almost over….