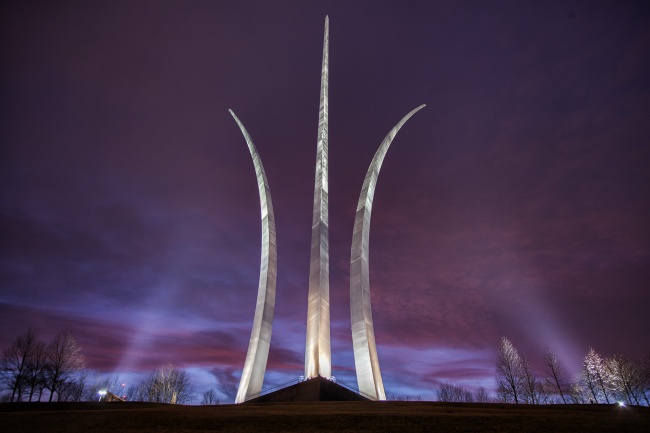 Going through some of my older images, I found this one. Man it's been a long time since I've been to the United States Air Force Memorial. I think the last time I was there was almost 2 years ago when my friend, Navin and I were out capturing some lightning images. In my opinion it's one of the harder monuments in the Washington DC area to photograph. I think I find it is so hard to capture because there isn't a lot of space surrounding it. It's hard to maneuver  your camera and tripod around in order to get the entire monument in one frame. The only way to capture was to I walk outside of the memorial grounds and stand on the sidewalk at Columbia Pike to get it all in one image. Obviously you can photograph it while in the grounds but it's very difficult without cutting anything off.
My favorite part of the image is the light that's hitting the bare trees. I think it looks really cool and interesting, especially the one on the right. I think it looks like it is made out of metal or something, right? Don't get me wrong though. I still think that the United States Air Force Memorial is one of the coolest places to go to photograph a big sky. I love the hill the sits right outside of it. It's a great place to sit with your camera and see interesting views of the Jefferson Memorial, Washington Monument and the US Capitol. The best time of day to shoot this memorial is probably sunset.
My camera settings for this image is F5.0 at 2.5 seconds and ISO 500 with my Canon 5D Mark II and 24-105mm. LOL that's how you know this is an older image. I shot it with my Canon. Ahhh memories.