Here are some testimonials from customers who have purchased art from Angela B. Pan Photography:
"When printed on the paper, the colors are iridescent and the images just pop"
– Grace H ., who purchased Pink Sunrise.
"I get compliments on the print from everyone that sees it."
– Vivian T., who purchased Cayman Sunset
"They are visually stunning and the subject matter is very appealing"
– Bob R., who purchased Pfieffer Beach, Napa Sunrise, Blue Monument, Iwo Jima, Golden Sunrise, and Big Sur Sunset.
Bob R's six pictures in his office.


"I really liked the feeling it gave me. Very relaxing and soothing."
– Amy T., who purchased Great Falls.
"The quality of Angela's photography is outstanding. The print is so beautiful, it practically pops out of the frame. It's a stunning piece that I'm proud to add to my collection."
– Lynn O., who purchased Rock.
Lynn O's picture in her home (L); 'Rock' is the actual picture she purchased (R)
"I'm a big fan of this young photographer. I have purchased several photos from her. My favorites are the cameleons pictures. I'd like to see her talents and commitments been supported."
– Alice H., who purchased Golden Sunrise.
"I am a long time fan of Yoemite and seen many pictures of Half Dome, but I never seen anything like this shot. Not only the composition is great, but it is like a painting and not a photograph. I also love the Tunnel View shot too."
-Paul G., who purchased Half Dome and Tunnel View
"Regardless of the subject, Angela's pictures always captures its soul. She truly has a great eye for photography. The compliments I receive from my purchases of her work never cease!" – Caroline C., who purchased Central Park
Caroline C's home.
"Though Angela's pictures cover a wide range of topics, I definitely find myself drawn mostly to those with architecture in them including the Reston Town Center and the Smithsonian. However, I was really drawn to the two pictures I have because of the beauty of the architecture, the colors, and how well they go together even though the buildings themselves are on the opposite sides of the country (the Library of Congress and the San Francisco City Hall). I love many of her pictures but I think they are, by far, the most beautiful and my favorite. I also like them because they aren't just straight on pictures. In other words, the angles are fabulous, as are the colors brought out in each and every picture. They are going to look great hanging in my office at home."
-Andy B., who purchased Library of Congress and San Francisco City Hall
"I loved the print the first time I saw it on your web site .The colours are so vibrant! The print arrived very quickly from the USA [to the UK] very impressive about 14 days I will be ordering another print shortly . You have a very special talent Angela and these pictures will look amazing.
– Geoffrey D., who purchased Classic Pink
"On Metallic paper…. stunning, more breathtaking I thought possible…. thank you!!!!"
-Sylvia T., who purchased Vietnam Memorial Cloudy Sunrise
"The picture looks fabulous in our living room. Thank you so much, it really makes the room complete." -Marissa R., who purchased Cherry Blossoms 2012
Marissa R's living room.
"I did a school paper based on your Vietnam Memorial Sunrise photo….it was about a photograph that "moved" me. My professor now surfs your website. Haha." -Raji T., Vietnam Memorial Cloudy Sunrise
"Angela, i sent your picture of the Wall to the Army friend I told you about when i first saw your pictures (he was badly wounded in Viet Nam). He called me after he opened it and was stunned. It was a very special moment and a salve to us both. I hope your career rockets, your pictures are just stunning. Thank you so very, very much." -Tim J., Vietnam Memorial Cloudy Sunrise
"After seeing her gorgeous photos (of New York City) hanging on the walls of my friend's apartment – I knew I had to have a few of my own. Taking photography to a whole new level – Angela Pan's gorgeous HDR photography captures vibrant images of still frame memories from across the globe. One of my favorite images of hers – a bright, exotic amaryllis with giant pink and yellow petals you just want to lay your head on – hangs above my bed frame, and brightens up my morning every day. It's no wonder you'll see her photos of our Nation's capital at its' airports, and featured all over the DC web-o-sphere." -Jennie T., who purchased Pink Orchid
"I recently purchased 3 of Angela's photographs of Great Falls, Virginia for my new home. Everyone who comes over automatically stops to immerse themselves in the beauty and intensity of the photos. I love how she is able to capture the detail and energy in the landscape. I will definitely be buying more of her photographs to decorate other rooms in my home!" – Karen T., who purchased Rock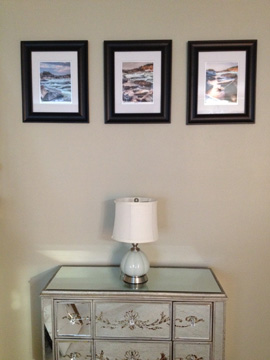 Karen T's home.